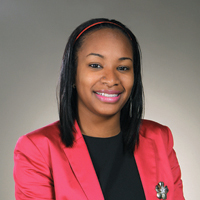 [Updated] A lawyer representing One Bermuda Alliance MP Nandi Outerbridge has stated that screenshots of messages — presently being widely circulated via email — were not sent by her client.
The messages, which Bernews is unable to repeat, would be considered by many to be highly offensive.
Katie Tornari of Marshall, Diel & Myers told Bernews that her client's Facebook account was hacked, and the messages were sent "without her knowledge" and that the matter was being investigated by the police.
Speaking with the police, they were unable to confirm to Bernews if an investigation had been launched, however we will update as able.
Nandi Outerbridge was elected in the 2012 General Election, winning the C#2 St. George's West seat in a three way battle which saw the OBA win by by 4 votes. Mrs Outerbridge received 359 votes, the PLP's Renee Ming received 355, while former MP Kim Swan — who was running as an Independent — received 214 votes.
Update July 31: One week later, we are still unable to get any form of confirmation from the Police that they are investigating an allegation of hacking. We have sent multiple emails and made multiple calls, however the Police have not yet confirmed that a complaint about the alleged hacking has been made.
[Update: As a note due to issues arising, comments of a certain nature cannot be permitted for legal reasons, although Bernews has declined to accommodate requests made by lawyer Katie Tornari "that all comments on the above named article be blocked", with the lawyer noting to Bernews that they "reserve our client's right to bring proceedings should there be any comments that we consider to be libelous."]
Read More About
Category: All, Crime, News, Politics, technology