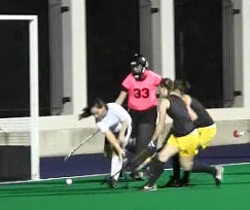 The Bermuda Under 21 Development Squad played host to Alvernia College at the National Sports Center.
Bermuda came close to opening the scoring in the first 2 minutes but missed wide of the Alvernia goal, Alvernia came to life minutes later with goals in the 6th and 14th minute, Lauren Guido scoring both Alvernia Field Goals.
Bermuda seemed to find their form again, but weren't able to retain the ball in their attacking 25 yard line. Alvernia showed their superior finishing touch with Ashley Turnton scoring a Field Goal in the 27th minute.
The second half found Bermuda asleep at the wheel and the visitors went 4-0 up after 2 minutes through Miranda Peto.
For the next 20 minutes both squads made good use of their subs benches, both teams were denied goals by some superb goalkeeping by both goalkeepers but it was Alvernia who once again scored with Guido getting her hat-trick in the 61st minute of the second half.
Whilst 5-0 down Bermuda kept fighting and were awarded for their efforts in the 65th minute through Maya Palacio, however as the game drew to a close Alvernia showed their sharp skill and fitness by putting everything into a final attack and were rewarded with a goal in the 69th minute with Mel Lowry scoring from a pass from Petro as Alvernia won 6 – 1.
Read More About