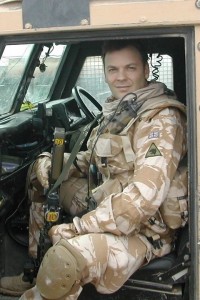 Governor George Fergusson announced that Lt Col Mike Foster-Brown — a British Army officer currently serving in Afghanistan — will serve as the next Commanding Officer of the Bermuda Regiment.
In a statement from Government House, Mr Fergusson said: "I am delighted that Mike Foster-Brown will be succeeding Brian Gonsalves. He will be taking over a Regiment with high levels of training and commitment, as I saw at the impressive Recruits camp last week.
"Lt Col Foster-Brown has excellent credentials to take over this role. He is currently serving in Helmand Province in Afghanistan. He has experience as Adjutant to a Territorial Battalion of his own Regiment, The Rifles.
"He has also served with distinction in Iraq, where he was mentioned in despatches for gallantry, and served earlier on, as did several members of the Bermuda Regiment, in Sierra Leone. I look forward to welcoming him here".
The Governor added that it was his hope and expectation that Lt Col Foster-Brown's successor in due course would be found from within the Regiment.
Mr Fergusson said: "I take this opportunity to pay tribute to the enormous commitment and professionalism of Brian Gonsalves as Commanding Officer over these past four years.
"I have been here only for the last eight months of that period, but have seen for myself the high standards, application to new roles and management with tight resources which he has achieved."
Lt Col Brian Gonsalves will complete his current tour of duty in May and it is expected that Lt Col Foster-Brown will take over command directly. Government House noted that the appointment has been made following consultation with the Promotions Board.
The Bermuda Regiment was formed in 1965, and has had fourteen Commanding Officers to date.
Read More About