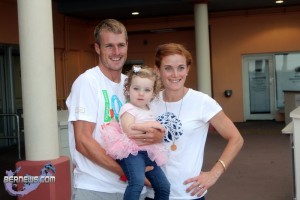 Tyler and Nikki Butterfield both plan to compete at the Abu Dhabi International Triathlon on March 2nd, 2013. The news marks a return to racing for the defending women's champion Nikki Butterfield, who put her athletic career on hold in mid 2012 in hopes of having a second child.
With Tyler making his first appearance in Abu Dhabi, the Butterfields are excited for the opportunity to race together in the season opener event. Tyler finished fourth at the 2012 Ironman Arizona and is the reigning Pan American Champion.
Earlier in 2012 he represented Bermuda at his second Olympic Games in London, clocking the fastest bike split and placing 34th. Now he'll turn his focus fully to long course competition.
"I can't wait to race in Abu Dhabi," said Tyler. "Nikki raved about it so much I've been looking forward to heading over all year. I like to see what I've got in the big races and Abu Dhabi has become a key event for a lot of pros.
"Hopefully both Nik and I can pull something off. Nik's coming off a really long break so we're not sure how she'll go, but her training is coming along great. It would be fun to do well together in the same race."
Nikki's decision to defend her Abu Dhabi title is a reversal of her earlier announcement that she would step away from professional athletics.
"Since our daughter Savana [now two years old] was born I've had some success with my comeback to sport, but it's been hard trying to do everything. Last July I got to the point where I felt I wasn't doing anything as well as I would have liked being a mom, a wife or an athlete. I needed time to regroup.
"It was certainly an attractive idea to take a year off, hang out with Savana and get things organized. I was also thinking about age gaps between kids and all the things that go into family planning.
"But I wasn't giving enough thought to how hard it would be with two kids, how I like to parent and what I'm prepared to give up in terms of time with our next child. I'm a very hands on mom – I find it hard every time I leave Savana.
"After four months off with more time to think, plus finally feeling caught up on everything, I realized that when we do have another child I'd like to be a stay at home mom, at least until our youngest is in school. But for now there are still things I'd like to achieve in my triathlon career. It just makes more sense to return to racing for a few years first, then close that chapter altogether."
"I'm thrilled to be going back to Abu Dhabi," Nikki continued. "There was no question in my mind as to which race would kick off my return. The event organizers are fantastic and it's a great way to experience a vastly different culture. The distances definitely suit us both with the longer bike leg, so we're eager to see what we can do out there."
Following the Abu Dhabi race, Tyler will also contest the Ironman Asia Pacific Championship in Melbourne on March 24th with the goal of adding to the Kona qualifying points he earned with his Ironman Arizona fourth place finish last year.
His 2013 season will have a two pronged approach, the first being the early season Abu Dhabi and Melbourne events followed by the Ironman World Championship in Kona in October, assuming he qualifies. After Abu Dhabi, Nikki's efforts will focus on the Hy-Vee 5150 U.S. Championship and the Ironman 70.3 World Championship in September, also dependent on qualification.
Thus, if the Butterfields are successful in their plan, one member of this highly competitive couple will race in each of the sport's major championship events. The Butterfields will remain based in Australia until April and then return to their home in Boulder, Colorado for the bulk of the U.S. triathlon season.
Read More About