[Updated] Three days after a brutal double murder took place inside the establishment, people gathered outside Belvin's on Happy Valley Road for a vigil held in memory of Haile "Star Child" Outerbridge and Ricco Furbert.
On Wednesday evening the two men were chased into Belvin's and gunned down. Their deaths marked the first murders of 2013, and also the first double homicide the island has seen for years.
Over 200 people, both young and old, made their way to the vigil this evening [Jan 26], including Junior Minister of National Security Senator Jeff Baron and area MP Michael Weeks.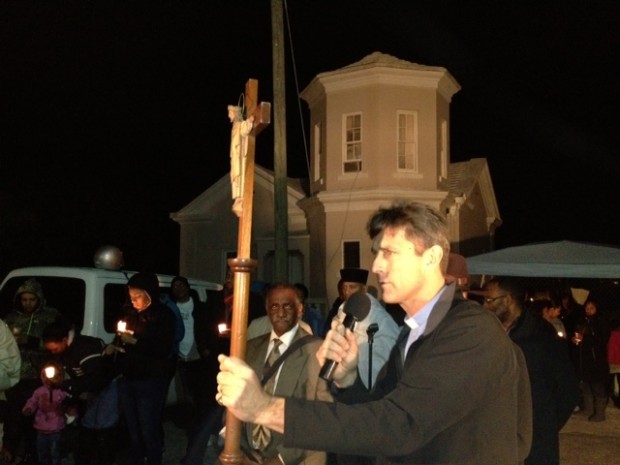 Coming from St John's Anglican Church in Pembroke, Rev. Nicholas Dill — who is pictured above holding a 100-year-old cross from St Augustine's Mission — said that the community must turn its face to God and that the cross was a symbol of the enduring good represented by the cross and its triumph over evil.
Under the watchful eye of nearby police officers, Kesis Paulos Goater from the Ethiopian Orthodox Church in St George's offered the first prayer. He was followed by a second prayer from Kes Haile Zion Simons.
Rev Vernon Lambe also spoke at the vigil, saying: "I think something needs to be said about the fact that some 23, 25 young men…all black, young men… are departing so violently and viciously by our own, by our own sons."
"We need to rise up and say enough is enough. Other Pastors are here tonight and I think can identify..I have buried 10 out of the 23, 25. Healthy, strong, gifted, talented….yes and black.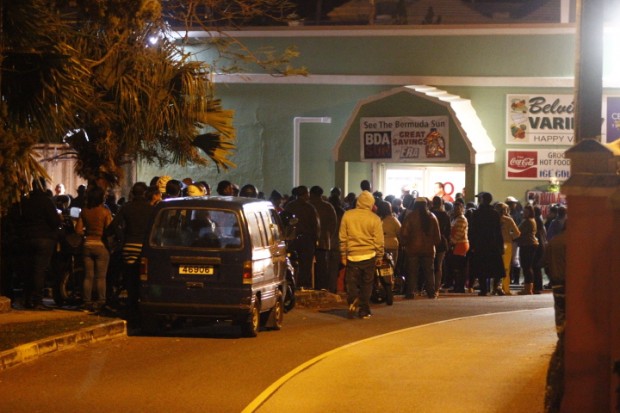 Rev. Lambe continued: "God made us that way, because he knew that we would bring something more than just the dark tone from melanin. He knew that we have certain gifts and abilities.
"Look around….look at the little ones, we have to have a Bermuda for them…and they need their own fathers, and they need as families their own sons so they can fulfill their own destinies."
"But tonight, I wonder if all the young men, wherever you are could rise up enough is enough. Somebody has to be willing to say, enough is enough."
Audio of Rev. Lambe:
Music by Haile Outerbridge, one of the two men killed on Wednesday, was played at the event, receiving a warm reception from those gathered. The 34-year-old was a talented reggae singer who performed under the name 'Star Child'.
Music and entertainment were provided by Starr Lyfe, Spanish Town, OG Genesis, local poet Spring Flower, Imari and E-Levels who sang a song that Haile Outerbridge wrote called 'Independent Ladies," and Andre "Blacka" Simmons sang a few songs including 'Its So Hard To Say Goodbye.'
A pre-recorded version of 'Independent Ladies' is below:
It had been sprinkling throughout the evening, and started to rain harder at around 8pm, while Gavin Smith of the Chewstick Foundation was organizing people. The hard rain caused most people to seek cover, with some beginning to leave.
The vigil was hosted by the Curve Community and 'Colford's Family Against Violence', a group which was formed after the 2011 murder of Colford Ferguson.
A 21-year-old man has been arrested in connection with the incident, however the double murder remains under investigation. Anyone with any information regarding the murders is encouraged to contact the Serious Crimes Unit on 247-1739 or the independent and confidential Crime Stoppers Bermuda hotline on 800-8477.
Read More About