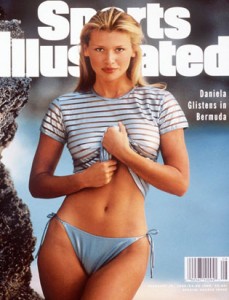 It was a case of beauties and the beach when a "Sports Illustrated" photo crew visited Bermuda with supermodels including Cheryl Tiegs, Ashley Richardson and a young Rebecca Romijin to shoot its 1995 swimsuit issue.
Entitled "Basking In Bermuda" and shot by Ron Labbe, the multi-page swimsuit spread showcased the models –and the pastel Bermuda backgrounds they were photographed against — to tremendous advantage.
"Fourteen of the world's most captivating supermodels will guide an estimated 50 million readers through  the beaches of Bermuda and the rain forest of Costa Rica," said "Sports Illustrated" when it announced the two scenic locations of the 1995 swimsuit issue.
The cover girl that year was Daniela Pestova — a blonde-haired, blue-eyed beauty from the Czech Republic — photographed on a South Shore beach.
She was the first model to make the cover in her first appearance in the swimsuit issue since Judit Masco of Spain in 1990.
Ms Pestrova went on to appear on the cover of the swimsuit issue two more times — in 2000 and 2006 — and has subsequently graced the covers of "GQ", "Marie Claire", "Cosmopolitan", "Glamour" and "ELLE" as well.
The swimsuit issue was conceived by "Sports Illustrated" editor Andre Laguerre in the early '60s to fill the winter months, a typically slow point in the sporting calendar.
Supermodels Vandela and Cheryl Tiegs in the 1995 "Sports Illustrated" Bermuda swimsuit issue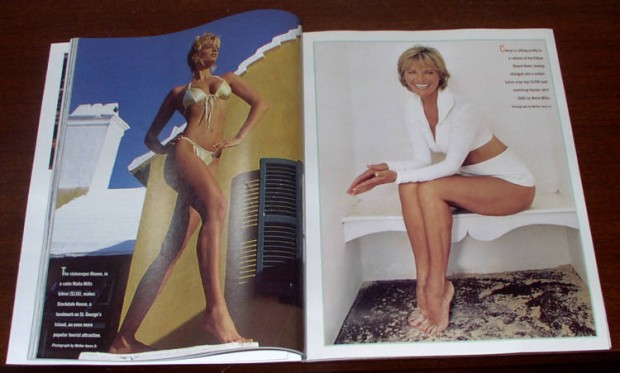 He asked fashion reporter Jule Campbell to go on a shoot to fill space, including the cover, with a beautiful model. The first issue, released in 1964, entailed a cover featuring Babette March and a five-page layout.
Ms Campbell soon became a powerful figure in modeling and molded the issue into a media phenomenon by featuring "bigger and healthier" California women and printing the names of the models with their photos, beginning a new supermodel era.
The text accompanying the Bermuda photos in the 1995 swimsuit edition was minimal — and typically breathless:
"The view is breathtaking when Ashley Richardson hits the roof of a home in Paget parish [below], wearing a stretch lace cotton-Lycra miniskirt suit by Keiko …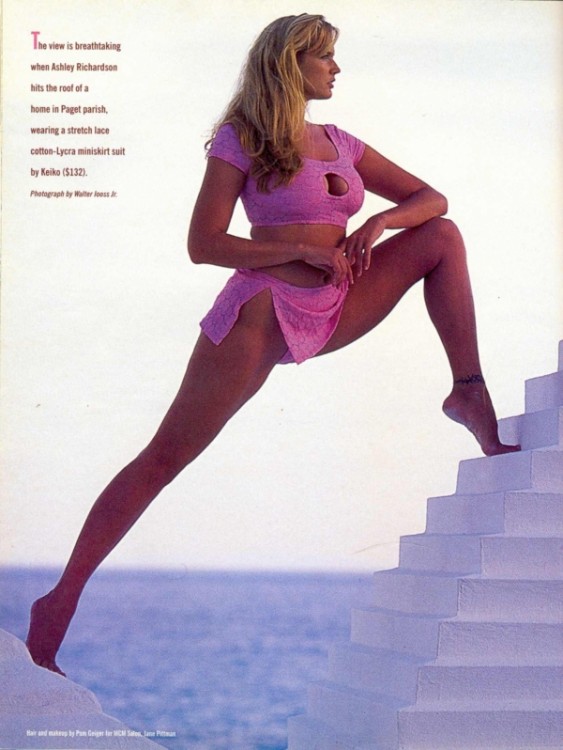 "There's splendor in the grass near Tobacco Bay when Daniela lies down on the job in a Karla Colletto bikini.
"Manon von Gerkan takes time to reflect as she finds repose beside the pool at the Blue Horizons inn, decked out in a Lycra mesh bikini by Cazimi.
"At The Reefs, a cliff side resort on Christian Bay, you never know who's going to roll in with the tide. It might be Rebecca Romijn, who takes a dip at dusk in a nylon-spandex bikini from Gottex [pictured below]; or Vendela, who lets the early-morning sun soak through a stretch fishnet tank top and bikini bottom by Monika Tilley.
"Clouds may be rolling in behind her, but Cheryl Tiegs shines like the sun in a minipleated Lycra maillot by Gottex.
"The statuesque Manon, in a satin Malia Mills bikini, makes Stockdale House, a landmark on St. George's Island, an even more popular tourist attraction.
"Cheryl is sitting pretty in a cabana at the Elbow Beach Hotel, having changed into a cotton-Lycra crop-top and matching hipster skirt by Malia Mills.
"Though she's obviously no hayseed, Vendela looks downright down-home on St. George's in a fetching, overall-inspired gingham-checked Lycra suit by Spot Swim.
"Sunset, sunrise: At day's end, Angie Everhart hunkers down in a secluded cove near The Reefs in a metallic-finished bikini from Darling Rio; while Judit Masco can't wait to greet the morning light at Jobson Cove, wearing a flowered Lycra maillot by Ritratti."
While the Bermuda swimsuit edition — and the accompanying "Sports Illustrated" 1995 calendar — sold in the millions, there were detractors.
One  widely syndicated American sports columnist called the "Basking In Bermuda" spread "an embarrassing anachronism …[for] the nation's foremost sports magazine …"
He chastised the magazine for devoting an annual issue to supermodels cavorting in skimpy swimwear when "…for the other 51 weeks of the year women athletes are struggling for what coverage they can get on the basketball court, on the track, on the tennis courts and in other sports."
– Photos and video courtesy of "Sports Illustrated"
Read More About
Category: All, Entertainment, Style & Beauty