Yesterday [Apr 26] British MP Mark Simmonds — who has the responsibility for Overseas Territories in the UK — visited CedarBridge Academy, Somerset Police Station and the National Museum of Bermuda.
While at CedarBridge discussed the purpose of his visit to Bermuda, his Ministerial roles and responsibilities, the priorities of the Foreign Commonwealth Office, and possible opportunities for attracting inward investment in Bermuda.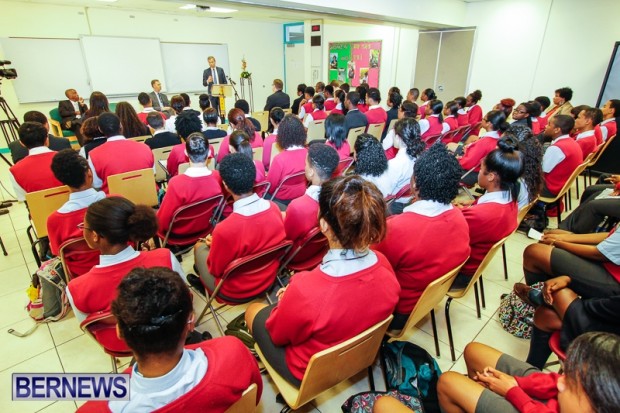 He also took questions from students in the audience – many of which were members of the Bermuda Youth Parliament. He was accompanied by Governor George Fergusson and the Minister of Education Nalton Brangman.
Following his visit to CedarBridge, Minister Simmonds visited Somerset Police Station where he met senior Police Officers and senior command staff including Inspector Mark Telemaque, Sergeant Ryan Leera and Chief Inspector Steve Donnelly.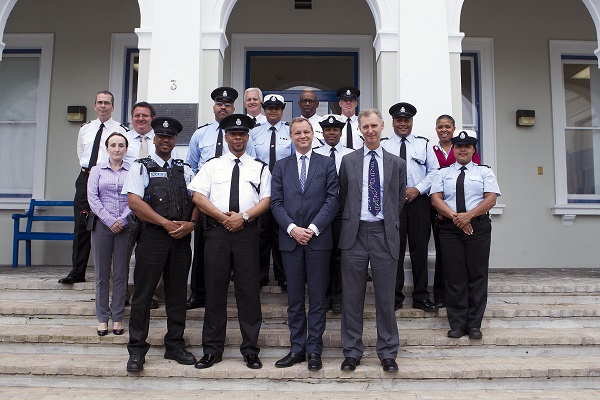 Minister Simmonds also visited the National Museum of Bermuda where he called on Director of the National Museum, Dr. Edward Harris and met with the Minister of Tourism and Transport Shawn Crockwell to get a feel for this major cultural heritage museum of Bermuda and have a sense of Bermuda history and what it has to offer.
Prior to going to CedarBridge, Mr Simmonds met with the Governor, Premier Craig Cannonier and Finance Minister Bob Richards to discuss how they can work together for the benefit of Bermuda, with ideas including holding a Bermuda Trade and Investment Conference in the UK. Mr Simmonds arrived in Bermuda on Thursday, making his first visit to the island.
Click photos to enlarge:
Read More About