In 1946, as transcontinental flights, luxury hotels, vacation packages and colour photography were on the rise, the monthly magazine "Holiday" became Americans' travel passport, offering readers access to cosmopolitan locales around the globe including Bermuda.
As writer Michael Callahan chronicles in "A Holiday For The Jet Set" in "Vanity Fair's" May issue, the publication's urbane editor Ted Patrick and revolutionary art director Frank Zachary recruited a roster of world-class talent, including William Faulkner, Truman Capote, Joan Didion, Ian Fleming, Edward Steichen, Henri Cartier-Bresson, and Robert Capa, to name a few of the many contributing writers, photographers, and artists who filled the magazine's oversize pages.
At its peak, the magazine had more than one million subscribers but when its circulation began to decline in the 1970s "Holiday" was sold to the publisher of "Travel", a competing magazine. The two publications merged to form "Travel Holiday."
Bermuda was regularly featured in the magazine and legendary American photographer Thomas Hollyman [1919-2009] — who went on to work for such publications as "Vanity Fair" and "Town & Country" — launched his career with a "Holiday Magazine" assignment on the island.
"Holiday" magazine 1958 cover story on Bermuda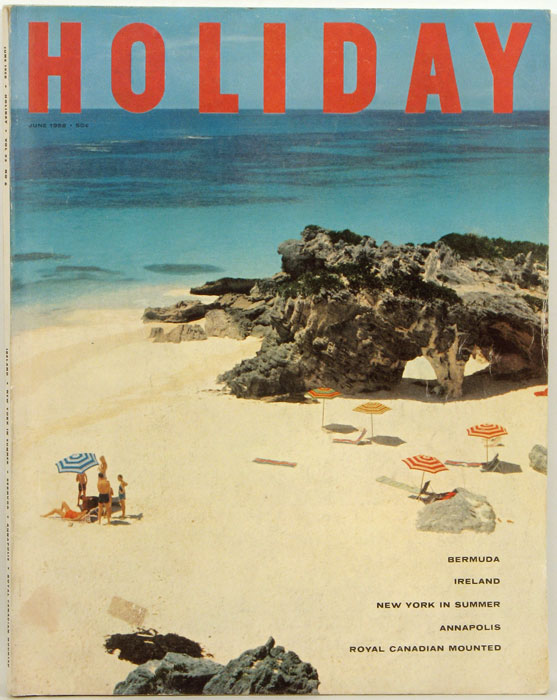 Honeymooning in Bermuda, his new bride and sometime collaborator Jean found herself stringing together a hard-wire cable necklace of some 40 flashbulbs to light up a seaside cavern for which the exposure was calculated manually.
"We never worked so hard in our lives, " Mrs. Hollyman later told a Connecticut newspaper. " We did 30 pages of pictures in two weeks flat."
After this first "Holiday" assignment the couple went on to work for the magazine for the next five years on an assignments in Europe, Latin America and the US.
Read More About