Philip Lamb — one of four black Bermudians to serve in the Royal Air Force in World War Two [1939-45] — was laid to rest yesterday [May 5] after passing away at the age of 90.
Mr. Lamb reached the rank of Leading Aircraftsman with the RAF and lived through a German bombing raid which left him hospitalised with serious injuries.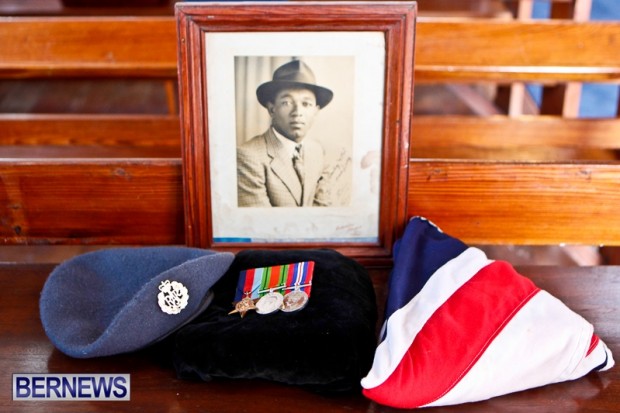 Mr Lamb — a St. David's Islander — was laid to rest at the Chapel of Ease in St. David's, and the service was attended by East End representatives including Susann Roberts Holshouser and Lovitta Foggo. Lt/Col Edward Lamb spoke at the funeral, as did Deputy Premier and Minister of Public Safety Michael Dunkley.
Minister Dunkley said, "Let me first express my thanks to the family for the opportunity to share, on behalf of the Premier and people of Bermuda, in this service of celebration of a life well lived.
"Long life is a blessing and something for which anyone would be thankful. But long life, lived without risks, without adventure, without triumphs and tragedies is just long…..and might not qualify as truly "living".
"Seventy years ago when a young St. David's Islander answered the call to serve in the greatest armed conflict of the modern era, he left a small outpost of the Empire and stood shoulder to shoulder with men and women united in the cause of freedom.
"The scorched earth and the wail of air raid sirens must have been a stark contrast compared to the beauty of Turtle Bay and the quiet lanes of St. David's. But Philip Lamb did himself, his family and his country proud.
"In fact, I suspect that if Mr. Churchill had known of the potential secret weapon of the Tribes Lamb, Pitcher, Fox and many other well known here in St. David's, the war might well have been over sooner," continued Minister Dunkley.
"Bermuda is justifiably proud of all our veterans. In two World Wars, Bermudians have seen action in some of the most dangerous battles; from The Somme to North Africa and Palestine. It is incredible to think that "Honky" Lamb was a volunteer.
"Furthermore at a time when we seem to beg people to serve their fellow man with not even at the risk of being wounded or killed, the story of this man who joined the BMA and who ended up wounded thousands of miles from home should serve to inspire us all.
"As Leading Aircraftsman Philip Lamb enters into his well earned rest, I am humbled and thankful for his service and his example. On behalf of the Premier, the Government and people of Bermuda I express my condolences to his family and encourage you to find comfort in the memory of his incredible life," concluded Minister Dunkley.
The Bermuda Historical Society's Andrew Bermingham — a close friend of Mr. Lamb's — previously told Bernews that the St. David's Islander was a genuine Bermudian hero, one of the last of the island's "greatest generation" who fought the fascist Axis powers of Germany, Italy and Japan not for individual glory or recognition but because it was the right thing to do.
Mr Lamb's death, and military service, was reported internationally, with the UK's Independent running a story, as well as various military and RAF websites.
Read More About