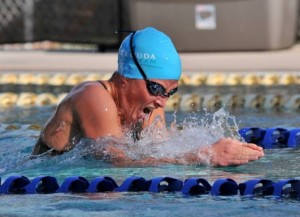 [Updated] The third day of the 2013 Central American and Caribbean Amateur Swimming Championships in Costa Rica saw Bermuda's Lisa Blackburn strike gold again – this time in the 200m butterfly.
The 42-year-old swimmer continues to prove herself to be a timeless athlete, having claimed a total of three gold medals and one silver thus far in the competition.
Bermuda had other swimmers in action, with Rebecca Heyliger finishing the 50m freestyle final in 5th place with a time of 28.06, meanwhile Ashley Irby finished 8th in the 11-12 Women 50m backstroke final clocking a time of 35.86.
During the 13-14 50m backstroke final, Shannon Hassell touched the wall in a time of 34.23 that saw her finish 8th, Jesse Washington clocked a time of 29.91 finishing 5th in the 13-14 50m backstroke final, and Rebecca Sharpe finished the 50m Backstroke Final in 6th place with a time of 32.77.
Bermuda's medal tally is now up to seven, with Lisa Blackburn, Shannon Hassell, Stephanie Myles and Rebecca Sharpe all reaching the podium.
Update: National Swimming Coach Ben Smith said: "The Bermuda team had much better energy this morning and seemed ready to swim fast. The shoulder injury that Ashley Yearwood has been swimming with was aggravated when half way through warm up she felt her shoulder pop out. After icing and some treatment from the trainer we decided to scratch her from her two events. She was very frustrated as she was looking forward to swimming two of her main events."
"The first event for the day was the 50 free. Rebecca Heyliger had a slow start but was able to recover to make the finals for tonight. Andrew Beveridge had a good 50 in a very competitive heat but was unable to make it back for tonight's finals. Lisa Blackburn went straight to finals in the 200 fly and will be looking to add to her medal haul."
"The 50m back was up next and we had Ashley Irby swim close to PB on her way to qualifying for her first CCCAN final. Shannon Hassell and Jesse Washington both made it back to the finals for tonight and they were also joined by Rebecca Sharpe. Andrew had a strong back and just missed out on the finals. Our final swim for the heats was Ashley Irby in the 200 free where she swam her race to plan and was able to drop 3 seconds from her personal best and get close to reaching finals.
"Rebecca Heyliger did not have a very good start but she closed well in the 50 free to move up to 5th position in the finals. Lisa swam well in the 200 fly and until the last 25 was on pace to break her own 200 fly record. She missed the record but was still able to capture another gold medal for Bermuda."
"In the 50 backstroke Ashley Irby swam her personal best time in her first CCCAN final. It is rewarding to see how much she is learning from this experience and that will be great for her in future meets. Shannon Hassell continued our issue with starts and came up well behind the field but she battled back into the race but was unable to fully recover from the slip.
"Jesse Washington had a great start and was in the lead for most of the race before becoming tangled in the lane line going into the finish. Rebecca Sharpe finished the day for us in her 50 back where she battled in a very competitive final but was left just outside the finals."
Mr. Smith concluded: "Tomorrow we have some great opportunities and we should have our first relay if Ashley can bounce back from her shoulder issues."
Read More About