Montpelier Re Foundation announced the winners of its 2013 scholarships. Medical student Aisha Maria Bassett has received the Foundation's $15,000 scholarship while IT student, Sherika Chanta Parfitt, and chemical engineering student, Seth Gabriel Wilson, have each been awarded $5,000 scholarships.
Chris Harris, CEO of Montpelier Re, said, "Montpelier launched its scholarship program five years ago to assist high-achieving, upper year university students in the completion of their degrees. We are proud to contribute financially to the education of such a fantastic group of young Bermudians. I would like to congratulate Aisha, Sherika and Seth on their accomplishments and I wish them all the best in the upcoming academic year."
All three scholarship winners with CEO Chris Harris: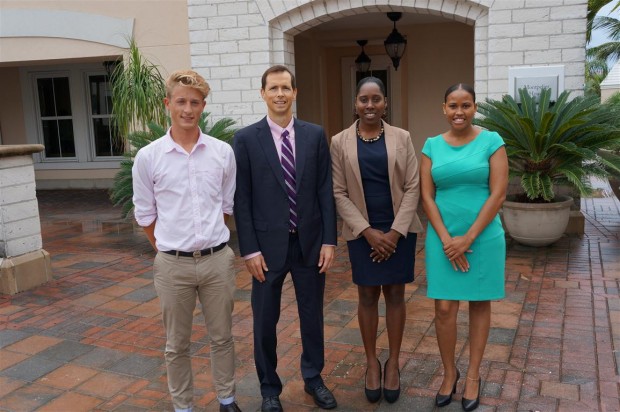 Barclay Simmons, Head of the Scholarship Selection Committee, said, "Our Committee was extremely impressed by the high quality students who applied for our scholarships this year and, as always, it was very difficult to select the winners. However, the final three stood out not only for their high academic achievements but also for their maturity and enthusiasm for their programs and their future careers."
Ms. Basset, who is entering her fifth and final year of studies at Norwich Medical School, University of East Anglia in the United Kingdom, plans to specialize in oncology with a special interest in neurology after she completes her degree. She previously completed a Bachelor of Science from McGill University in 2008 and is a graduate of Saltus Grammar School. Currently, Ms. Bassett is interning at the Belize Cancer Centre and Southern Regional Hospital. She is also involved with Signature Ministries, a Christian performing arts group, and is a committee member for the Bermuda Medical Student Society.
Ms. Parfitt is entering her third year of an information technology/software engineering degree at the New England Institute of Technology. The Berkeley Institute alumnus hopes to eventually earn a Master's degree in Information Technology and to work as a software developer. She is a volunteer for both Bermuda Cancer and Health Centre and Feed My Lambs Ministry.
Mr. Wilson is entering his third year of a chemical engineering degree at University College London. He is a graduate of Warwick Academy, a past participant of the Spirit of Bermuda's aid voyage to Haiti and is currently an ACE Select Intern.
Two of last year's winners will continue to be supported this year with funding of $5,000 apiece.Kirsten Nusum is pursuing a nursing degree at Old Dominion University in Virginia and Subira Dill is pursuing a risk management and insurance degree at Temple University in Philadelphia.
Read More About