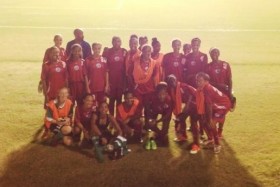 The Bermuda Women's U/17 football team lost 2-1 to Puerto Rico in their second match of the CFU FIFA World Cup Qualifying Tournament.
The game took place this evening [Aug 11] in Puerto Rico, with Bermuda coming in off their 4-2 victory over the Bahamas earlier this week and having already advanced to the next round.
The starting line up was Micah Pond, Deshea Darrell, Eva Frazzoni, Taznae Fubler, Aaliyah Nolan, Sideya Dill, Zahra Gibbons, Leah Smith, and K'shaela Burch Waldron, Kali Lespere, and Nasaj Burgess.
The game kicked off at 7pm Bermuda time, and saw Bermuda take a 1-0 lead in 13th minute with a goal from Aaliyah Nolan who scored from some 30 yards out.
The first half saw both teams stay close, with Bermuda's goalkeeper Micah Pond pulling off several saves as Puerto Rico recorded 7 shots on goal compared to 3 for Bermuda. The two teams went into the half time break with Bermuda leading 1-0.
Bermuda made its first substitution 58 minutes into the match, with Tieyah Durham coming on for Deshae Darrell. In the 66th minute Puerto Rico was reduced to 10 players after one of their players was shown a red card for a hard foul on Bermuda Captain Kali Lespere.
Puerto Rico scored in the 82nd and 89th minutes after sustaining pressure on Bermuda despite playing with one player down. In injury time Bermuda was awarded a penalty after a foul on Aaliyah Nolan, however Bermuda missed the penalty, and Puerto Rico won the game 2-1.
Both Puerto Rico and Bermuda have secured passage through to the next round.
Read More About