The Bermuda's under 15 female football team began taking part in the Inaugural CONCACAF Under 15 Girls Championship in Cayman Islands, losing 1-0 to Honduras at the Truman Bodden Sports Complex.
Bermuda's starting line-up was Micah Pond, Zakiyah Durham, Taznae Fubler, Ember Butterfield, Tae-eja Bean, Symira Lowe Darrell, Leah Smith, Leilanni Nesbeth, Nia Christopher, Jada Samuels, and Teyah Lindo, while the substitutes were Makayla Robinson, Victoria Davis, Brianna Swainson, Deila Ebbin, Nyanje Burgess, Lauren Way and Camille Chin.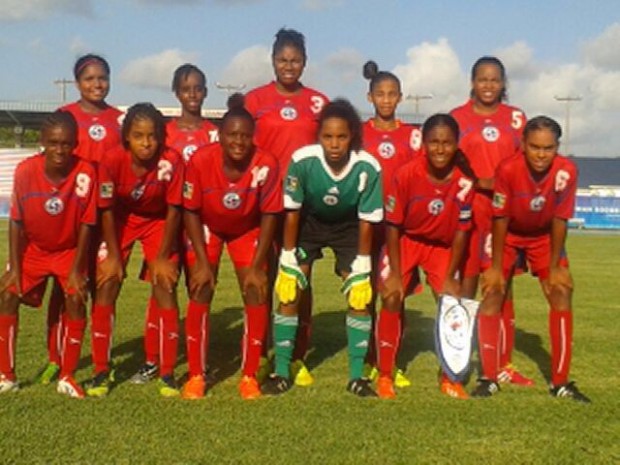 Bermuda started brightly, winning the game's first corner in the early minutes, having most of the possession. The first shot of the game came off the boot of Lindo, but it was easily saved.
Smith controlled the midfield for Bermuda with Honduras struggling to get out of their half, and after some ten minutes Honduras had their first attack.
In the 21st minute Bermuda conceded the game's first and only goal when Andrea Lopez found the back of the net. Bermuda immediately went in search of the equalizer with Samuels getting a shot off, but it went wide.
Christopher was causing all sorts of problems on the left side, and had a cross that resulted in a shot for Nesbeth that was saved.
Minutes before the half time break a hard shot by Lindo,was blocked and then cleared. The first half came to an end with Bermuda recording 5 shots, 0 offsides and 3 corners, while Honduras had 1 shot, 3 offsides, 0 corners and 1 goal.
Early in the second half, Lowe-Darrell beat the defense to ball and her pass inside to Nesbeth whose shot was cut out, Nesbeth was then replaced by Swainson.
Fubler had a busy period spell cutting out a few Honduras attacks, they managed to get a shot off from 10 yards with Pond making a diving save to her left.
Bermuda was back on the attack with Swainson coming close to getting an equalizer but her shot was cleared off the line. Swainson next tried a shot from some 40 yards, but it went wide.
Samuels was then replaced by Ebbin, however Bermuda could not find the equalizer as they went down 1 – 0.
Read More About