Bermuda CableVision hosted a Gospel Music concert to support its "Open Hands Loving Hearts" food drive on Sunday. The event was a great success collecting 24 barrels of non-perishable food for local Bermuda charities.
The non-perishable food items collected at the event have been divided amongst local charitable organisations. Fourteen barrels have been given to The Eliza Dolittle Society food bank, the Salvation Army has received five barrels and the Seventh Day Adventist Church programme has received the remaining five barrels. Each barrel can hold up to 55 gallons.
[Left to Right] Tyler Jessy, The Eliza DoLittle Society; Alan Smith, Assistant General Manager, Bermuda CableVision; Rollin Nathan, Sales Manager, Bermuda CableVision; Terry Battersbee, Food Raising Coordinator, The Eliza DoLittle Society; Terry Roberson, General Manager, Bermuda CableVision; Margaret Ward, Executive Director, The Eliza DoLittle Society; Pastor Kenneth Mandevs, Hamilton Seventh-Day Adventist Church; Major Shawn Critch, Salvation Army; Joseph Menbis, The Eliza DoLittle Society; Matthew Jessy, The Eliza DoLittle Society.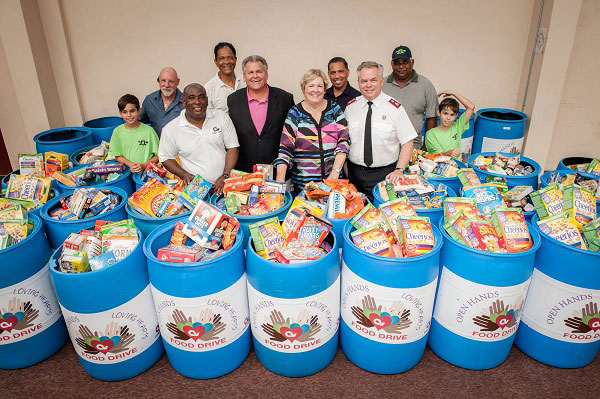 The family-oriented event,which began with a health fair,took place at the National Stadium and received an overwhelming response from the approximate 1,000 attendees who came to celebrate Bermuda's diverse array of gospel talent. Event guests included four government dignitaries: Premier Craig Cannonier, Premier who said a few welcoming words to the crowd; Shawn Crockwell, Minister of Tourism, Development and Transport; Wayne Scott, Minister of Community, Culture and Sports; Michael Weeks, Shadow Minister of Community, Culture and Sport.
The concert also honoured Kelly Zuill on 50 years of outstanding gospel music and generated awareness for the less fortunate in our community.
Concert performers included: AME Praise Team, Aarron Spencer, Bermuda Institute Silent Praise,Bethel AME, Church Choir,Chitens, Diane Coddington, Enharmony, Gina Spence Production in Christ, His Hands, Kadash, Lorrita Adderley, MadreeMusson, Melvin Mappt and Ralph Richardson, Michael Taylor, Mildred Davis, Maxwell Affings, Shani Smith, Shine Hayward, Southampton Brothers, and Toni Robinson.
Bermuda CableVision launched its "Open Hands Loving Hearts" food drive in April of this year. Since then, dozens of schools and several businesses and churches across Bermuda have participated by collecting food items and placing them in CableVision's "big blue barrels" at various locations around the island. The Gospel Concert enabled CableVision to reach the larger community to boost support for the food drive and help fill the pantries of more local organisations who are running feeding programmes for the Bermuda community.
Rollin Nathan, Bermuda CableVision's sales manager and key organiser for the event, says, "We are thrilled with the support and momentum that our 'Open Hands Loving Hearts' food drive has received and the interest the community has expressed to get involved. On Sunday, we had the opportunity to come together as a community, celebrate the Bermuda people and raise awareness. We want to thank the Bermuda Conference of Seventh Day Adventists for all their support in making the concert and health fair a tremendous success. We look forward to many more opportunities to give back and help out our fellow community members".
CableVision's General Manager Terry Roberson explains, "We are overwhelmed by the endless support from the community for the 'Open Hands Loving Hearts' food drive. We are so inspired to see the love that the community shares and to have had the opportunity to celebrate together on Sunday. Bermuda is one island and we are one people.It is important that we look at the big picture and assist those who may need a helping hand. We want to thank all those who came out to celebrate and showed their support".
Read More About
Category: All, Entertainment, Music, News