Following his hat-trick heroics during yesterday's [Nov 16] game, Nahki Wells 'trended' on Twitter, indicating that he was one of the most talked about topics at that time for the estimated 15 million users in the UK.
The popular social network has over 200 million active users tweeting over 400 million times per day. Twitter lists the top 'trending' topics in real time, which are calculated by the volume of tweets being sent at that time.
The Bradford City vs Coventry City match was televised on Sky Sports, with numerous people across the UK able to tune in and watch the 23 year old Bermudian and other players in action.
Following his hat-trick, Wells became one of the most discussed topics for the millions of Twitter users in the UK. Technically speaking, it was actually a misspelling of his name that trended – Nakhi rather than Nahki.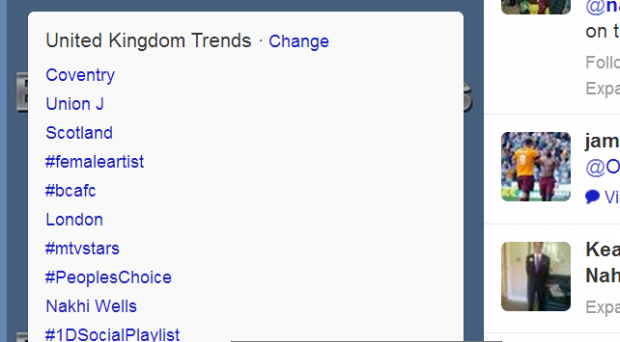 Wells came out firing in the first half, scoring in the 17th minute and 28th minute to take Bradford to the half trailing 2-3 to Coventry City.
Neither team could break the deadlock for the second half, however deep in stoppage time Bradford was awarded a penalty, and Wells calmly slotted it home to claim his hat-trick and pull Bradford to a 3-3 draw.
This is not the first time Wells has trended on Twitter, with the former Dandy Town player also achieving the distinction after scoring against Premier League Aston Villa in a televised game back in January 2013.
It is also not the first time the Twitterverse has seen talk of Wells "strange accent" after being interviewed on television, with multiple overseas people tweeting about it yesterday.
Wells, whose accent sounds normal to Bermudians or anyone familiar with us, seems to leave some UK football fans rather baffled, with tweets about his accent often appearing after he is interviewed on UK TV.
Some of yesterday's tweets about Wells "strange accent":
What's Nakhi Wells' accent? Bloody confusing

— Jed (@_j3d) November 17, 2013
Nakhi wells, very good player for that level, baffling accent

— Ben Honeyman (@BenHoneyman) November 17, 2013
Nakhi Wells' accent is sooooo weird

— Tom∆sz (@Tom_Kelton) November 17, 2013
Think Nahki Wells has possibly the most bizarre voice I've ever heard, what is that accent?

— Ryan Smith (@Ryan_Smith94) January 8, 2013
Nakhi Wells is quality..what is that accent though? #League1 #Bradford

— Eddie Jackson (@TheRealEdmundo) November 17, 2013
Nakhi Wells has a really unusual accent #bradford

— Lauren Whittingham (@laurynjb_) November 17, 2013
What is Nakhi Wells's accent about??

— Daniel Archer (@danielarcher92) November 17, 2013
Although some Twitter talk centered around Wells "strange accent," the vast majority of it was discussing Wells prowess on the field, with numerous tweets being sent in praise of the Bermudian's skills. Many online football pundits were predicting that the striker is likely to attract the attention of clubs in a higher league.
Read More About
Category: All, News, Sports, technology