[Updated: Wells scores hat-trick to take his tally up to 12 goals this season. The game ends in 3-3 draw]
Nahki Wells is in top form, striking in the 17th minute and 28th minute of today's [Nov 17] game against Coventry City, marking the first time he has scored following his recent layoff due to an injury.
The 23 year old Bermudian returned to the game late last month after going off during Bradford's match against Shrewsbury Town on September 28th after taking a hard knock to his foot causing ligament damage.
Wells during the match against Wolves last month, photo by Claire Epton: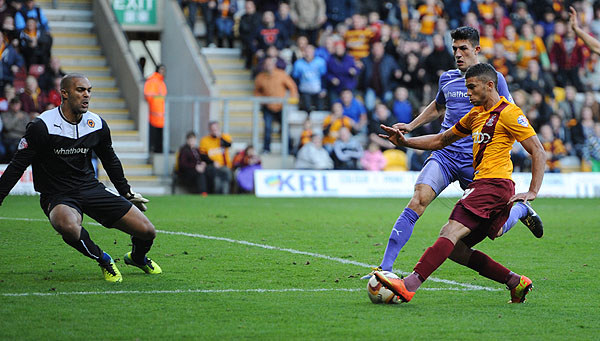 Wells was in fine form during the first half, finding the back of the net in the 17th minute and 28th minute to keep Bradford to within one.
The score was 2-0, Wells scored twice to pull Bradford even, however Coventry scored again in the 42nd minute to go one ahead.
As of this writing, Bradford is down 3-2 to Coventry with a few minutes remaining in the first half, which has been a high scoring affair. We will update with the final score as able.
Update 1.28pm: It's a hat-trick! Nahki Wells makes a huge return from injury with three goals, he follows up his two first half goals with a third in the last seconds of the game, converted a penalty during stoppage time. The final score was 3-3.
Update 2.42pm: Thanks to YouTuber Charlotte Swithenbank, a video of Wells third goal [penalty] is below
Update 6.19pm: Speaking after the game, Wells said: "It was a great game and an unbelievable atmosphere. Both teams created chances and played their part, I'm just glad we grabbed a point in the end. I think a draw was a fair result in the end.
"I just wanted to come out and give it my best. Thankfully, my hard work has paid off and I've got a hat-trick. I am not the one who deserved all the plaudits though. Big James Hanson did well, the entire team did well really to get us back in the match.
"I am just thankful that I could play my part in getting us a point. We're just off the Play-Offs with this point and it keeps us right in there."
Update 7.27pm: UK photographer Claire Epton posted a photo gallery from today's game, with quite a few nice shots of Wells. One shot of Wells celebrating is below, and the full photo gallery here.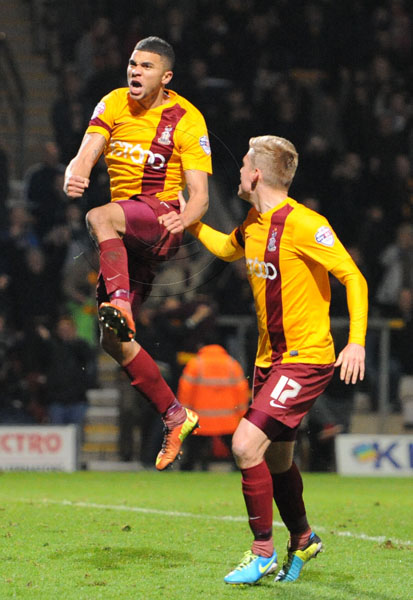 Read More About