The Bermuda Youth Orchestra presented their fall concert "Skyfall" along with the Bermuda Regiment Band on Sunday [Nov 24] at St. John's Anglican Church, Pembroke. This is the first concert of the organization's 2013-14 concert series.
Dressed in his regimental regalia, Major Dwight Robinson, entertained the audience with his wit, as he explained the origins of each piece of music performed by the youth orchestra.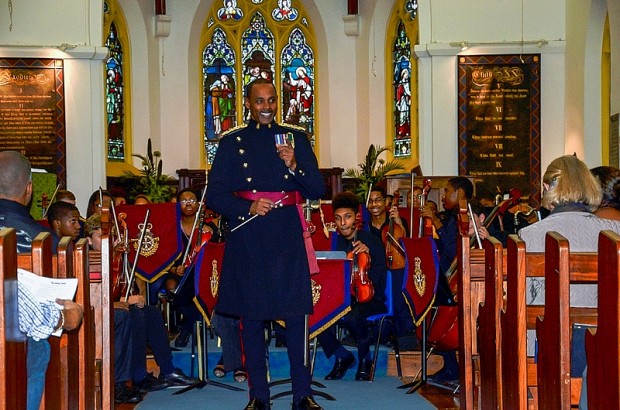 Skyfall, aptly named, after the James Bond's movie "Skyfall" was a mixture of classical and modern themed music, most that had an appearance in some television programme. The theme from "Games of Throne", highlights from the motion picture, "How to Train your Dragon" and of course "Skyfall" from James Bond, were three tv or movie pieces for the afternoon.
Needless to say, an orchestra would not be complete without classical music, and included in the repertoire was "Radetzky March" the opening piece and the overture, "Egmont". Of course, the afternoon would not have been complete without modern pieces and that included title pieces "Just Give Me a Reason," and Lady Gaga's "Born this Way".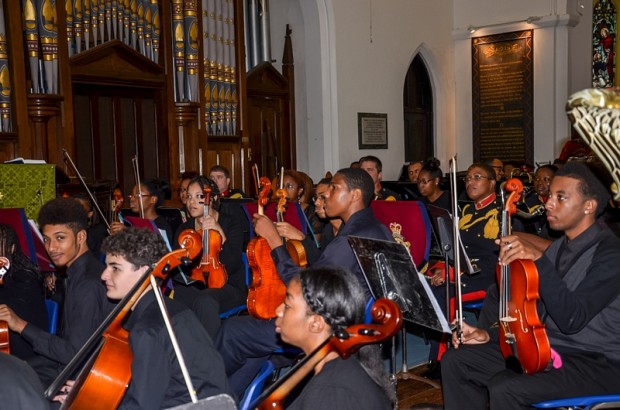 To the credit of the organizers, the event began on time, with some audience members, accustomed to late starts, arriving after the music began. Despite its youth, re-establishing in 2012, the Bermuda Youth Orchestra has set standards of timeliness.
There were 35 young musicians from across the island, ranging in age from 11 to 25, hailing from various public and private schools.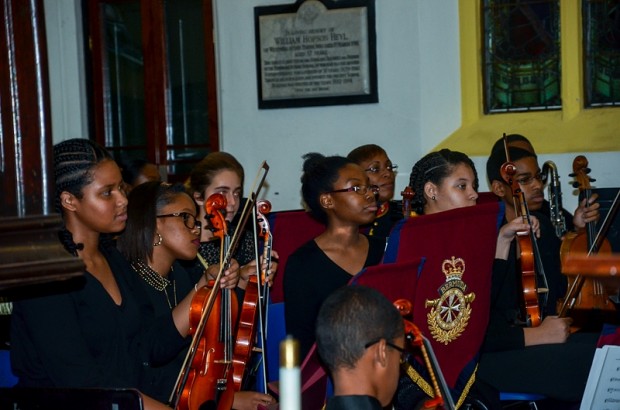 Students participating in the Bermuda Youth Orchestra attend, CedarBridge Academy, Berkeley Institute, Sandy's Secondary Middle School, Bermuda High School for Girls, Bermuda Institute, Saltus Grammar School, Warwick Academy and Bermuda College. Also included was one parent musician and 14 members of the regiment band.
The Bermuda Regiment also partners with the Bermuda Youth Orchestra [BYO]. According to Major Dwight Robinson, this provides young people with an opportunity to work with seasoned musicians and it also helps to let young people see that the people in the regiment are regular people.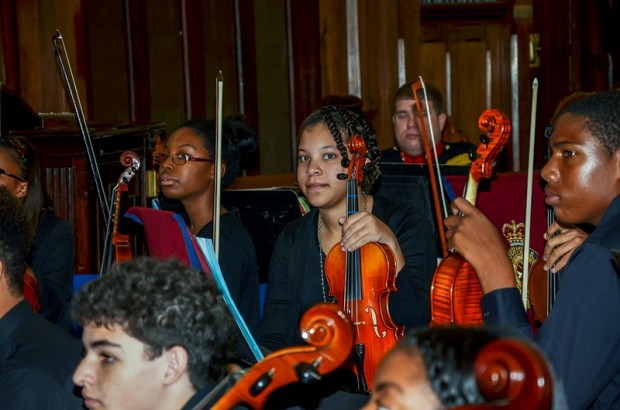 He further explained that joining the regiment at a young age, particularly as a member of the regiment band, aids in the development of young people, for he has travelled the world, since he joined the regiment at 13 years old, as a band member.
The BYO is committed to bringing together Bermuda's young musicians with purpose of providing musical learning and performance opportunities across a variety of genres will fostering cooperation and progress towards musical excellence. BYO is the only youth symphony orchestra on the island.
With this mission, the students of the BYO are provided with unique opportunities to work, study and play with the finest instructors and musicians on the island and they participate in two annual concerts, one in the fall and one in the spring.
Miss Tiffany Fox, music instructor at CedarBridge Academy was instrumental in the re-establishment of the BYO. Every Thursday afternoon, she teaches, conducts, directs and rehearses the members of the BYO.
Click to enlarge photos:
Read More About