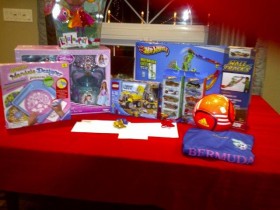 A local woman who received the benefit of a family's generosity this Christmas season expressed her gratitude, saying that she was at a "loss for words" and that her children were thrilled to see the gifts under the tree.
As we previously reported, the Wade family from Broken Hill Lane in Smith's decided to help a family of fellow Bermudians over the holiday season, collecting donations from their own family in order to extend an offering to another family in need of a helping hand.
Spearheaded by Fawn Burgess and Pam Wade, the group organised a collection from each member of their family, resulting in hundreds of dollars being raised.
The group then purchased a number of items for the family in need, in the end presenting them toys for children [pictured], a $200 gift certificate to The Market Place, a $200 gift certificate to Gibbons Company, a $100 gas voucher, a bag full of groceries, and more than $100 in cash.
In expressing her thanks, the recipient said, "First of all, I have to say a huge thank you to all of you who contributed in some way to our family. You definitely helped us to have a fun and memorable Christmas.
"When I was presented with the food, vouchers, and toys, I was definitely at a loss for words. To think that a family would come together like you all did to help to make someone else's Christmas a better one was so touching.
"I can truly say that was a wonderful idea, and my children were soooo excited to see those gifts under the tree. When they saw the gifts they both said, "Wow"!
"This year has been a struggle for me financially. While I know that Christmas is not only about the gifts, as a child I had nothing but loving and fun memories of Christmas, and that is what I wanted for my children. You all definitely helped me to make that happen. Thank you from the bottom of my heart.
"I am ever so grateful for what you have done for us this Christmas, and may God truly give back to you. May you all have a prosperous New Year."
Read More About