With a successful International Race Weekend behind us, the next event on the running calendar is the Butterfield & Vallis 5k on Sunday, February 2.
Last year was a record year for this event with over 700 participants. The race starts outside of the Reading Clinic and finishes at Butterfield & Vallis on Woodlands Road. Steven DeSilva and his Bermuda Timing team will once again be doing the chip timing.
Participants will have plenty of time to compete, enjoy some snacks, watch the prizes awarded, and still be home in plenty of time to watch the Broncos and the Seahawks compete in the Super Bowl.
The event kicks off at 9.00am with the Primary and Middle School boys and girls running the 2.7k route; at 9.30am, the Senior School students and adults will run the 5k route. Walkers will start right behind the runners. The BNAA have instituted a ban on strollers being used in the competitive part of this event.
Non-competitive walkers are still allowed to use strollers.
Runners embark on the Butterfield & Vallis 5K Road Race in 2012: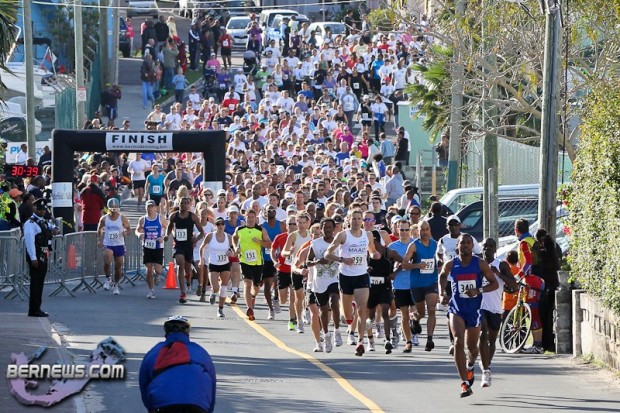 This event is promoted and organized by Butterfield & Vallis and assisted on race day by the Bermuda Union of Teachers and sanctioned by the BNAA. Proceeds from this event will go towards sending young athletes to the CUT Biennial Student Athletic Championships.
Entry forms are available at the SportSeller and at both Butterfield & Vallis locations or participants can enter online. Entry forms can also be downloaded, printed, and turned in.
The main draw prizes are two pedal bikes from Winners' Edge. The first 800 participants will receive a t-shirt, goodie bag, and a medal upon finishing.
Acceptance of paper entries closes on Wednesday, January 29 at 4.45pm, while online entries will be accepted until 5.00pm on Friday, January 31. Late registration and number pick-up will be held on Saturday, February 1 between 10.00am and 2.00pm at Butterfield & Vallis on Woodlands Road.
There will be no late registration on race day.
For more information, please contact Terri Durrant of Butterfield & Vallis at 236-6688, extension 416, or 335-4870.
Read More About