Twenty-year-old Ryce Trott let one of the island's insurance companies take the TCD strain and ended up with a bouquet of flowers and a $250 voucher. Ms Trott was the 500th person to take advantage of a concierge system run by Colonial Insurance to assist in getting your car or bike licensed.
Ryce Trott  with Colonial's Jennifer L. Murdoch: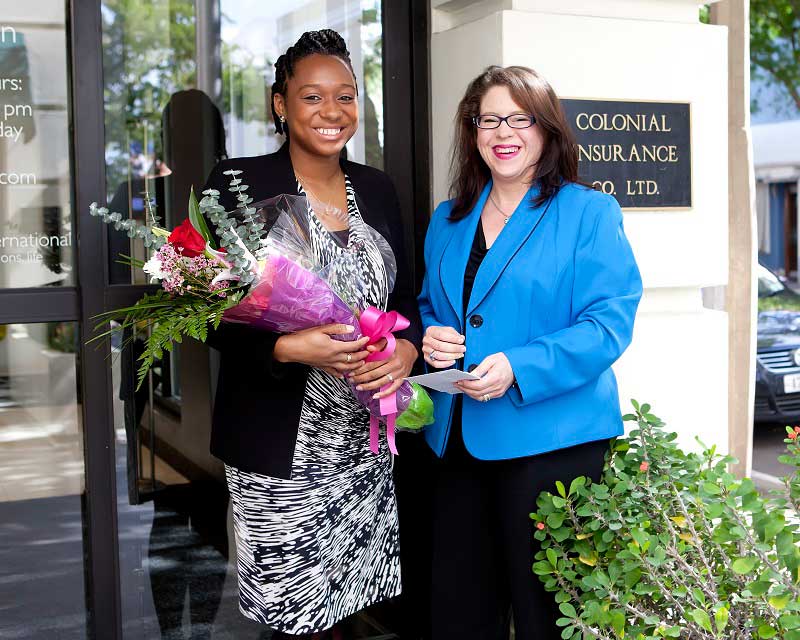 "I picked up my mail and saw Colonial and read how they could help with TCD. I took them up on the offer and it was so easy. It was quick and saved me a lot of hassle," said Ms Trott.
Once a person has their vehicle pass slip and if the motor insurance with Colonial is up to date, the company will take all the paperwork to TCD. Within three working days, the vehicle license will be ready for collection, or it can be mailed.
Jennifer L. Murdoch, Colonial's General Manager for Personal and Business Insurance, said the TCD concierge service had saved countless hours for people.
"Service at TCD is actually good nowadays, but people are busy working and it is difficult for everyone to fit in the time to go there. More often than not they are having to take time out of their lunch hour, so this really helps those busy people," added Ms Murdoch.
Read More About