Plans by the Pirates of Bermuda to take people "hostage" have been delayed one day, as due to the bad weather expected today, the fundraising event has been postponed until tomorrow, with the event now now set to be held on Sunday, March 9th at 3:00pm.
Organised by the Bermuda Sloop Foundation as part of its current fundraising-drive for the "Spirit of Bermuda's" sail training programmes, friends, family, co-workers and others can choose to donate towards a hostage's ransom — or towards him/her having to "'Walk the Plank" into the waters of the Hamilton Harbour.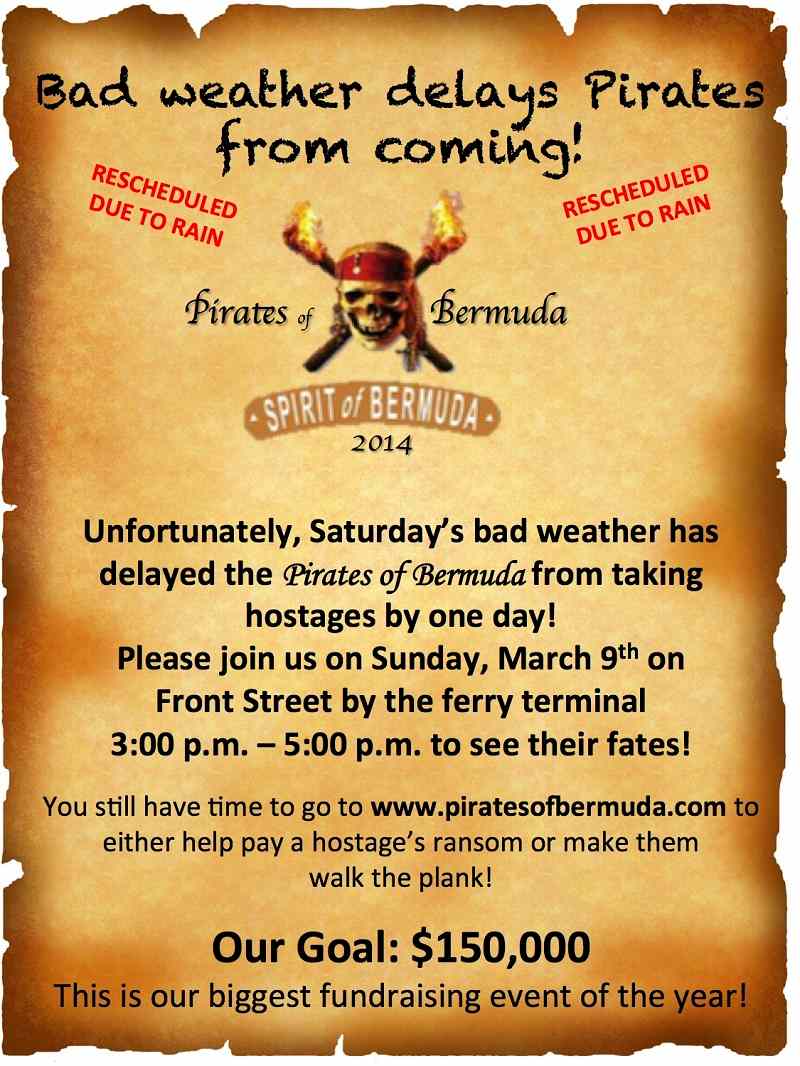 The group of "hostages" listed as taking part in this year's fundraising event include Karen McDonald, Alan Burland, Juan Prado, David Goodwin, Dr. Michael Ashton, Kirk Kitson, Paul Markey, Patrick Dill, Charles Penruddocke, Martha Kirkland, Jesse Kirkland, Tom Hebert-Evans, Andrew Mendonca, David Kendell, Mark Clarke, Alexis Swan, Mark Berry, David Skinner, Scott Pearman, Rebecca Roberts & Justin O'Keefe, Glenn Clinton, Somers Cooper, Blythe Walker, Rikki Hornett, George Hayward Jr., Kevin O'Donnell, Ambrose Gosling, Bishop Nick Dill, James Watlington, Morris O'Brien, Greg Wojciechowski, Christian Dunleavy, Christian Dunleavy, Bill Pollett, Bonnie McGlynn, Stephen Outerbridge, Graham Pewter, Peter Frith, Captain Clifford Powell, Kiernan Bell, Josh Bento, Terry Pimentel, Monica Dunstan, Layton Outerbridge, Joel Duffy, Hugh Conyers, Jenny Goodwin, Sharon Beesley, and Patrick Outerbridge.
Read More About
Category: All