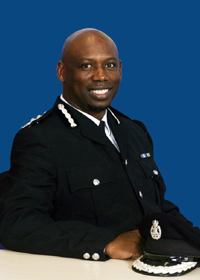 [Updated] Deputy Police Commissioner Mike Jackman is set to retire after 32 years of service.
Commissioner of Police Michael DeSilva said, "The Bermuda Police Service would like to recognise the career of Deputy Commissioner Mike Jackman, who retires today after 32 years of policing in Bermuda.
"Mr. Jackman began his initial training in 1982, joining the Bermuda Police Force as part of Recruit Foundation Course #31.
"During his policing career he chaired the Bermuda Police Association from 1996-1999, was ultimately promoted to Deputy Commissioner in December 2009 and more recently was awarded the Overseas Territories Police Medal for Meritorious Service in June 2012.
"Undoubtedly, his service has helped to make Bermuda safer.
"Mr. Jackman, a proud Barbadian and avid sportsman, will be returning to Barbados at the end of the month to enjoy his retirement. We wish him a safe journey home and all the best in his future endeavours."
Update: On the occasion to mark Mr. Jackman's retirement, National Security Minister Michael Dunkley commended him for his service, saying his "32 year career that has been validated by the trust and confidence he has enjoyed of Governors, successive Ministers and the men and women with whom he has served."
Minister Dunkley's full statement follows below:
Retirement can be a tricky thing.

Some say it is best to plan to retire before the boss thinks about your retirement…based on the absence of HE the Governor tonight it seems that Mike Jackman is ahead of the curve!

Or perhaps it can be looked at another way…upon retirement of a person you always hear glowing praises.

But perhaps behind a good wish for the future might well be a hidden "good riddance".

Some of the tears that are being shed might be tears of joy.

There can even be hidden meanings in the speeches….so, when a speaker says: "and I wish you all success in your future endeavors….." does that really mean "maybe in your next job you'll get it right….."

Thankfully, tonight is not such an occasion.

Mike Jackman's retirement is the culmination of a 32 year career that has been validated by the trust and confidence he has enjoyed of Governors, successive Ministers and the men and women with whom he has served. 32 years…

As I thought about tonight's celebration I thought back to 1982.
- Ronald Reagan was President of the US
- Britain overcame Argentina in the Falklands War
- Former Soviet Leader Leonid Brezhnev passed away at 75.
- The first artificial heart was implanted
- Sir John Swan became Premier of Bermuda
- Penny Bean was the Commissioner of Police, the first born Bermudian to rise from constable to Commissioner
- Hurricane Debby grazed Bermuda as a Cat 2 in Mid Sept

And Mike Jackman joined the BPS and one night shortly after joining was staked out with MP Glen Smith (a police reserve at that time) looking for the illusive Eggs Smith!

Mike Jackman is a proud West Indian and the proof of that is an accent that is as full of flying fish and coucou today as it was when he first arrived on these shores.

The circle of his service is almost complete as I understand that Barbados is soon to reclaim this native son and so Bermuda reluctantly parts with him having benefitted immensely from his service for over three decades.

In the 15 months that I have been the Minister of National Security I have been impressed by the strength of the team that is known in some quarters as "The Mike and Mike Show".

The work of the Bermuda Police Service is too important to the success of Bermuda for there to be anything but a strong team at the helm.

Together, Commissioner DeSilva and Deputy Commissioner Jackman have spoken with one voice on the priorities, operational effectiveness and tactical approach to the phenomena of gang violence in this country.

Across the political divide they have inspired confidence and have understood the need of elected officials to feel connected to policing of this community.

There has been no "daylight" between them and the demonstrated confidence of the people of Bermuda in the work of the Bermuda Police Service is in no small measure due to their unity of purpose and obvious confidence in each other.

Personally, the Mike Jackman I know will be committed in retirement to some of the same things he has attempted to perfect over several years.

I admire his persistence in the face of challenges.

I respect his "never say die" attitude to this skill.

I even marvel at his dedication when confronted with certain failure.

No, I am not speaking of anything related to policing; the Mike Jackman I know is only retiring at 55 so that he can finally sort out his golf game.

So mindful of the hidden meanings I referred to at the beginning, Mr. Jackman "I wish you all success in your future endeavors"!

In closing, let me thank you Mrs. Jackman for your strong support of your husband and to wish you well also.

It is not easy being the spouse of anyone who is a public figure or who is in a leadership position and thus we should not take lightly just how important that is.

Now as your husband retires it means that he is home every day and in retirement there are no days off!

Ladies and gentlemen, I am honoured, on behalf of the Premier, Government and people of Bermuda to salute an outstanding policeman, a dedicated public servant and a committed student of the game of golf.

Mr. Deputy Commissioner, thank you for your service and I wish you a healthy, happy and enjoyable retirement.
-
Update Mar 17, 10.55am: Governor George Fergusson issued a statement calling Mr. Jackman's service "positive and distinctive" and announcing an effort to identify a successor.
"As Deputy Commissioner Jackman commences his pre-retirement leave today I would like to pay a big tribute to his service to the Bermuda Police Service over a long time.
"I have really enjoyed working with him since my arrival in Bermuda and have seen the particular qualities which have made his contribution so positive and distinctive. I wish him and Michelene the very best for the future.
"A selection process is underway to identify a successor, focusing on serving officers of the Bermuda Police Service and any Bermudian of suitable rank serving in law enforcement elsewhere."
Read More About