The unplanned landing of the Sea Venture in 1609 began Bermuda's story, bringing the first known settlers to to what is thought to have previously been a deserted island.
It was in June of 1609 that John Rolfe and his first wife set sail for Virginia on board the Sea Venture, which departed from Plymouth. Like several before it, the vessel was intended to carry both supplies and fresh settlers to Britain's newly established colony at Jamestown, Virginia.
The next month, in July of 1609, the Sea Venture was forced to battle a strong Atlantic storm and the ship's captain, Sir George Somers, purposely ran the Sea Venture aground on Bermuda's shore in order to prevent its floundering, allowing over 100 passengers to escape the looming disaster unharmed.
Both Rolfe and his wife were among the survivors, all of whom were stranded on Bermuda. Only a few months after their impromptu landing, in February of 1610, Rolfe's wife gave birth to a baby girl; unfortunately, the infant, aptly named Bermuda, did not survive, and was buried on the island shortly after her birth.
For approximately nine months, the survivors remained on the island, busying themselves with the building of two new ships – aptly dubbed Deliverance and Patience – using Bermuda cedar and parts salvaged from the wreck of the Sea Venture.
Replica of Deliverance located in St George's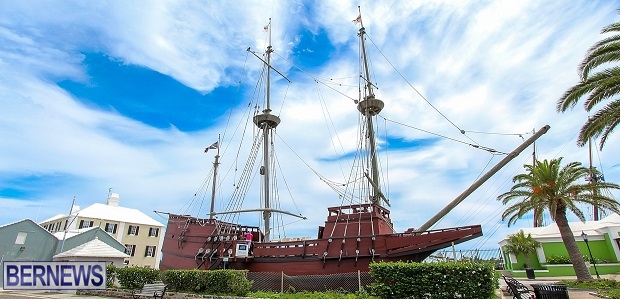 Using these newly built ships, the survivors continued their journey to Virginia, arriving in May 1610 to find Jamestown almost destroyed by famine and disease during what has become known as the Starving Time.
Rolfe went on be instrumental in founding the Virgina tobacco industry, an endeavor that earned him much notoriety, both at the time and long after. "Rolfe began cultivating tobacco seeds grown in the West Indies; he probably obtained them from Trinidad or some other Caribbean location," History.com reports.
"When the new tobacco was sent to England, it proved immensely popular, helping to break the Spanish monopoly on tobacco and create a stable economy for Virginia. By 1617, the colony was exporting 20,000 pounds of tobacco annually; that figure doubled the following year."
While Rolfe is known for his effort to establish strong tobacco exports from Virginia, he is equally well-known for marrying famed Native American princess Pocahontas.
Originally named Matoaka, Pocahontas was captured by the English during Anglo-Native hostilities in 1613, and held for ransom. During her captivity, she is said to have converted to Christianity and took the name Rebecca.
Following the death of his first wife, John Rolfe fell in love with the young woman and decided to marry her. He obtained permission from the Powhatan, the name given to the united Native American tribes of Virginia, as well as from the military governor of Virginia, Sir Thomas Dale.
Scenes depicting Pocahontas and John Rolfe in the 2005 film The New World:
According to a flyer from the Bermuda National Library [PDF] Reverend Richard Bucke, another Sea Venture wreck survivor, performed the ceremony which married John Rolfe and Pocahontas in April of 1614.
Their marriage is said to rank among the first recorded interracial marriages in North American history.
Pocahontas became well-known due to the 1995 animated film from Walt Disney of the same name. While the 33rd film in Disney's animated catalog, Pocahontas was the first to depict an historic character. Released around the time of Pocahontas' 400th birthday, the film went on to gross nearly $350 million worldwide.
While popular in some circles, the film drew ire from some Native American groups as they said it perpetuated negative stereotypes.
Chief Roy Crazy Horse of the Powhatan Renape Nation said, "The film distorts history beyond recognition. Our offers to assist Disney with cultural and historical accuracy were rejected."
"The true Pocahontas story has a sad ending. In 1612, at the age of 17, Pocahontas was treacherously taken prisoner by the English while she was on a social visit, and was held hostage at Jamestown for over a year.
Trailer of the Disney film Pocahontas:
Chief Roy Crazy Horse continued, "During her captivity, a 28-year-old widower named John Rolfe took a 'special interest' in the attractive young prisoner. As a condition of her release, she agreed to marry Rolfe, who the world can thank for commercializing tobacco.
"Thus, in April of 1614, Matoaka, also known as Pocahontas, daughter of Chief Powhatan, became 'Rebecca Rolfe'. Shortly after, they had a son, whom they named Thomas Rolfe.
"Two years later, in the spring of 1616, Rolfe took her to England, where the Virginia Company of London used her in their propaganda campaign to support the colony. She was wined and dined and taken to theaters.
"Rolfe, his young wife, and their son set off for Virginia in March of 1617, but 'Rebecca' had to be taken off the ship at Gravesend. She died there on March 21, 1617, at the age of 21."
The 2011 Pow Wow held in Bermuda: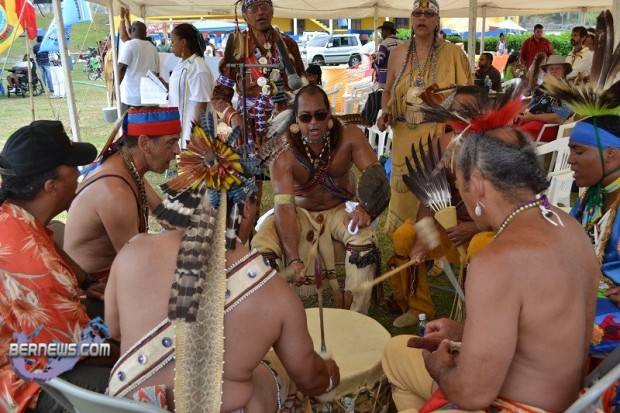 Bermuda's connection with Native Americans extends back centuries, with Native Americans brought to the island as slaves in later years. Many eventually settled in St David's, where their descendants still proudly celebrate their ties.
The link between Native American tribes and their Bermuda compatriots first began to be celebrated at Reconnection Festivals in 2002, and now the island hosts a Pow Wow every two years.
The island's iconic Gombeys are also thought to have some roots in the island's ties to Native Americans, with the African influence blended in to create a uniquely Bermudian folk art that has lasted through the centuries, and continues to be well-loved today by Bermudians and visitors alike.
Read More About