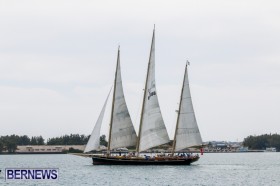 The Spirit of Bermuda hopes to cruise back to land late this evening [Mar 27] after heading some 325 nautical miles off Bermuda to drop off Polish kayaker Aleksander Doba.
Mr. Doba is attempting to become the first person to travel from Europe to North America in a kayak, and stopped in Bermuda in order to have his kayak repaired. He started his journey last October in Portugal, and is now heading to Florida.
Spirit of Bermuda CEO Denise Riviere said, "Everyone on Spirit is doing well. As of this morning, the wind had subsided slightly and the swells were still high, but less confused and more spread out.
"The wind is expected to go north this afternoon, forcing Spirit to go slightly east of its waypoint. It is supposed to go NE'erly by this evening, which will allow Spirit to tack over to BDA.
"As things subside, their intention is to motorsail straight in. If they are able to motor straight in, then they are looking at a late evening arrival [10-11pm]. If not, it will be sometime overnight or early morning when they arrive under sail."
Read More About
Category: All