XL Group has successfully completed a four-month program designed to teach Victor Scott Primary School students about the business world and to inspire them to pursue future opportunities available to them.
A spokesperson said, "Throughout the program, employees from XL's Insurance and Reinsurance operations in Bermuda engaged with 9- and 10-year old students in Victor Scott Primary's P5 class through a series of workshops designed to teach the children how businesses operate.
XL's Noel Pearman, Michelle Pitcher, DeVrae Tankard and Ken Hammell along with winning students Ronny Guzman-Perez and Kimahja Smith: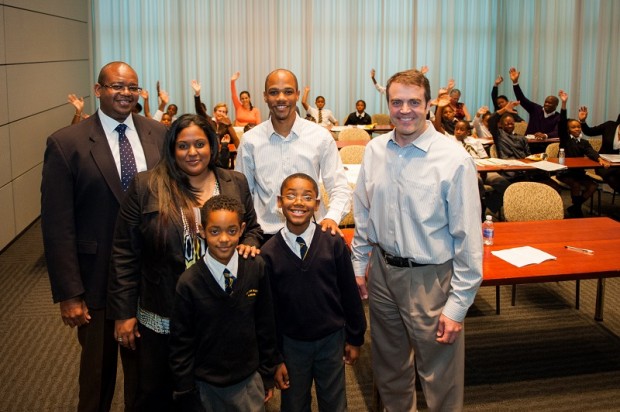 "Students explored a variety of jobs, and the skills required to do them. They learned about insurance and its importance. They also developed their own fictional businesses and pitched them to a team of potential fictional investors at XL's O'Hara House this week.
"The winning business idea was The Pet Center – a "one stop shop for all your pet needs." Along with a wide range of pet food and accessories, the Center would offer additional services such as grooming, pet day care and an international pet courier service.
"The XL "investors" commented that "the presentation was well organized, with questions to the audience to maintain interest." Students in the winning group won individual prizes as well as a donation of books to their school library.
"The program enabled the students to experience how a business would grow, including writing and conducting market research surveys around Hamilton, and then used mathematics and technology skills to interpret and present the results.
"The XL volunteers, known as "XL Buddies", assisted the students with activities which were designed to encourage critical thinking through questions and discussion.
"The program, developed and piloted in XL's Bermuda office, will be made available to other XL offices for replication in schools in other global regions in which XL does business starting in 2015.
Valerie Williams, Principal of Victor Scott Primary School, said, "As a 'Leader In Me' school, we at Victor Scott Primary are always looking for opportunities to enhance and further develop our students' leadership skills.
"Our hope is that the seeds that have been planted through this wonderful initiative will germinate and blossom into exciting possibilities for our Primary 5 students. Once again, we extend a heartfelt thank you to XL for providing these fantastic opportunities to broaden and extend our students' education experiences."
Patrick Tannock, President of XL Insurance Bermuda Ltd, said, "Through this project, we've seen the impact we can make as a business by donating time and skills.
"Not only has it enabled our staff to contribute to the community they're living in, but it's also introduced students to a world of future career possibilities. As a business we believe we have a duty to support the next generation; they will be our employees, our clients, and a big part of making our future community thrive."
Jevon Williams, XL Associate Legal Counsel, who is also a former student of Victor Scott Primary School and an "XL Buddy", said, "I think all the Buddies would agree that the project has been a positive and rewarding experience.
"I believe we've been able to show the students what they can aspire to, and we're proud of how much their skills have developed over the past few months. We've also learned from them."
Read More About