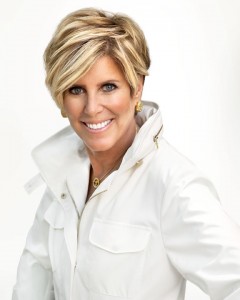 After announcing in February her intention to visit Bermuda in order to offer a personal finance seminar, tickets to the upcoming Suze Orman event at the Fairmont Southampton Princess have been confirmed to go on sale on March 31, 2014.
A spokesperson said, "Tickets for one of the most sought-after events of the year are to go on sale on Monday, March 31 and are expected to sell out within days.
"The Colonial Group has been inundated with queries about tickets since it announced it was bringing America's most trusted personal finance guru, Suze Orman [pictured left], to Bermuda.
"Ms. Orman will be speaking at the Fairmont Southampton Princess on May 10, and one lucky person in the audience will get $5,000 to be placed in a retirement account with Colonial.
Marie Jo Caesar, Chief Operating Officer for Pensions at Colonial Group International, said the visit of Ms. Orman had created a buzz around the island."
"I know people have been asking the concierge at the Fairmont Southampton Princess if he has details of ticket sales," said Mrs. Caesar. "We have had dozens of people ringing our offices to find out details as well."
"Ms. Orman is a New York Times mega bestselling author, a two-time Emmy Award-winning television host, and a magazine and online columnist.
"She is also the contributing editor to "O" The Oprah Magazine and is in her 12th year as host of the award winning Suze Orman Show, which airs every Saturday night on CNBC.
"Last year, Forbes magazine awarded Ms. Orman a spot in the top 10 on a list of the most influential celebrities of 2013 and the Television Academy Foundation's Archive of American Television honoured her broadcast career accomplishments with her inclusion in its historic Emmy TV Legends interview collection."
Mrs. Caesar added, "Ms. Orman's talk will help show people that they can take control of their personal finances using simple truths about making priorities for their financial future.
"Personally, I am a huge fan of Ms. Orman and think that this event is going to be one of the must go-to events of the year. The $5,000 retirement account will be a much needed addition to the lucky winner's pension plan. It is impossible to underestimate the importance of investing in your future."
"Tickets for the Suze Orman event will be on sale from Monday, March 31 at bdatix.bm or from Pulp and Circumstance on Washington Lane in Hamilton."
Read More About