[Updated] Teen Services announced the winners of the 2014 Outstanding Teen Awards on Saturday evening [Mar 8], with more than 100 of Bermuda's young people in consideration for their good works in the community.
The winners were announced during a ceremony held at the Fairmont Hamilton Princess Hotel at 6.00pm, with all of the more than 100 nominees honoured for their positive contributions to Bermuda.
The winner of the 2014 Overall Outstanding Teen award was Lindsay Fisher who attends Warwick Academy. She is pictured below along with Premier Craig Cannonier and his wife Antoinette.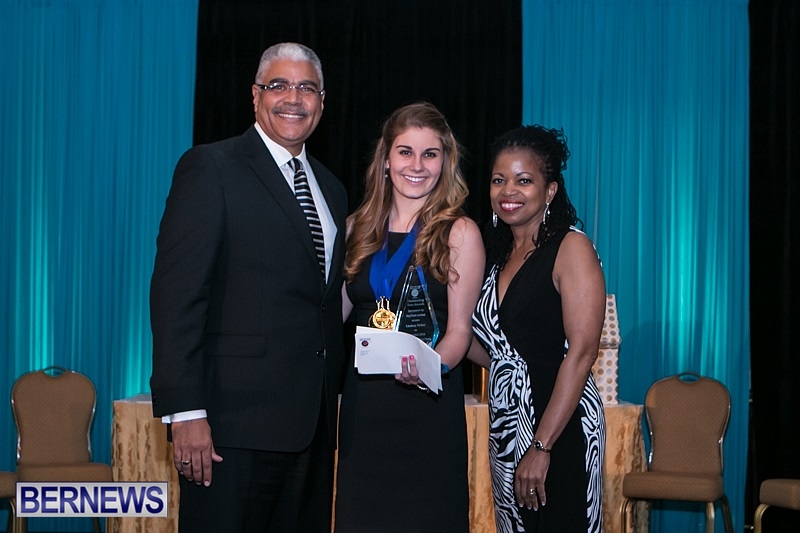 Other category winners included Tatiana King (BI) and Zachary Friesen (WA) for Spiritual Leadership, Jasmyn Renfroe (Berkeley) and Jaquan Hatherly (CBA) for Sports, Amber Reid (MSA) and Ryan Robinson-Perinchief (Berkeley) for Leadership, Tahirah Smith (CBA) and Bruce Sandham (Saltus) for Most Progress, Gabriella Arnold (WA) and Kjeld-Mizpah Conyers-Steede (CBA) for Community Service, Kayla Simmons (Saltus) and Jair Duke (CBA) for Perseverance, Wendy Tuxworth (BHS) and Russell Conyers (WA) for Academic Achievement, Jasmine Lee (WA) and Brandon Sousa (MSA) for Visual Arts, Christia Wright (BI) and Benjamin Dylan Hollis (WA) for Performing Arts and Samuel Bennett (WA) for Vocational Technical/Arts.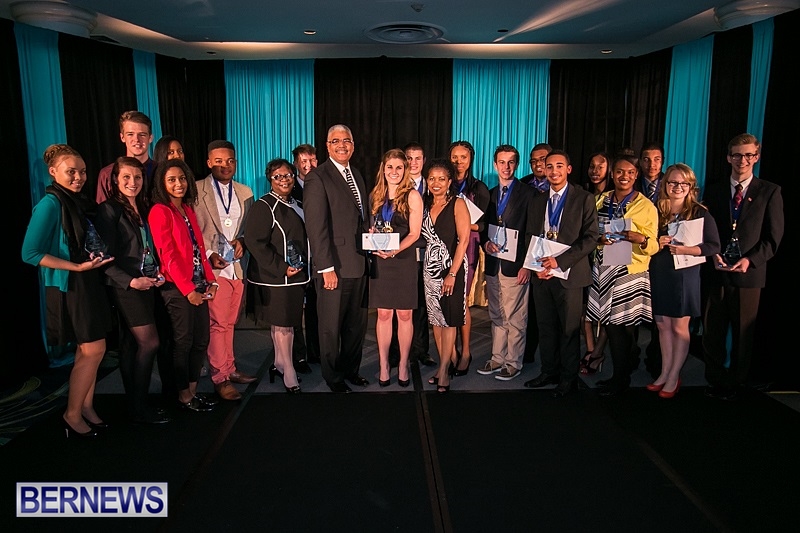 Those in attendance included Premier Craig Cannonier with his wife Antoinette Cannonier, Education Minister Dr Grant Gibbons, Minister of Community, Culture & Sports Wayne Scott, Senator Alexis Swan, MP Michael Weeks, MP Lawrence Scott, MP Walton Brown and former Premier Alex Scott with his wife Olga Scott.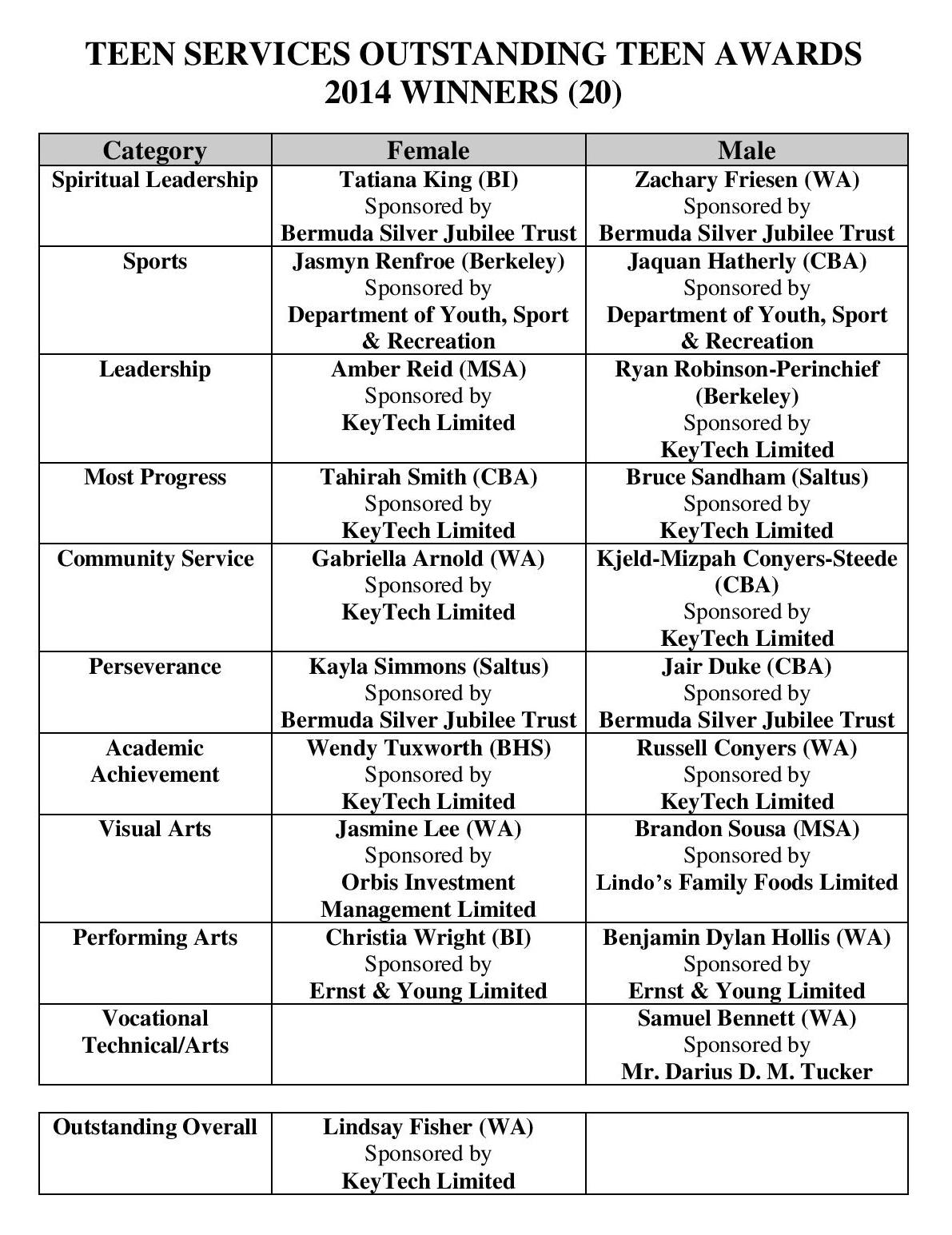 The host for the evening was Nadanja Bailey who entertained the crowd in the Harbourview Room which was filled to capacity. Board chairperson Ray Jones welcomed everyone and the Premier's wife Antoinette Cannonier delivered the opening remarks before the announcement of all the nominees.
Update 12.15pm: The PLP congratulated all the winners, and also thanked Teen Services who have organized and presented these awards for the past 31 years.
Shadow Minister of Community Affairs, Michael Weeks said, "Attending these awards is a highlight of my year. Watching 113 young people from all of the island's senior schools receive certificates of achievement and watching the category award winners be recognized in front of family and friends is beautiful. We have so many young people doing great things!"
Shadow Minister of Education Walton Brown, "These awards celebrate all the positives in our youth. Too often we are drawn into conversation over what is wrong with our youth, but there are so many that are on the path to success. Year after year, these awards make us all aware of this fact."
Update 1.34pm: Education Minister Dr. Grant Gibbons said, "It gives me great pleasure to recognize and celebrate the achievements of the students nominated for the 2014 Outstanding Teen Awards.
"What an amazing group, so full of enthusiasm, energy, creativity and commitment, and this year there are a record number of high achievers, 113 in all. You have made your families, your teachers and your schools proud, and your collective talent will undoubtedly benefit Bermuda in the years to come.
"I serve as Minister of Education and Economic Development, and there are good reasons why these two portfolios are closely connected. First, individual achievement in school leads to good jobs, professional satisfaction and stronger communities. Second, Bermuda will continue to prosper economically only if we offer a well-educated work force to employers.
"Each Outstanding Teen Award nominee, in his or her own unique way, is already making Bermuda a better place. We are impressed with your high academic achievement, your devotion to community service, and your commitment to music, art and sport. You have already understood the important connection between effort and reward, and that will serve you well in anything you choose to do in the future.
"Continue to set the bar high and you will go far. Please accept my congratulations for a job very well done and my best wishes for continued personal success," concluded Dr. Gibbons.
Click to enlarge photos:

Read More About