Bermuda became the 60th stop on the Queen's Baton Relay's 118,000 mile and 248-day journey, as the baton and its entourage arrived on the island yesterday evening [Apr 25].
The Relay is part of the build up to the 2014 Commonwealth Games in Glasgow, Scotland, which are set to begin on July 23. The baton is currently making its way throughout the 71 nations of the Commonwealth, with Bermuda providing an integral link as part of the most engaging and exciting Relay in history.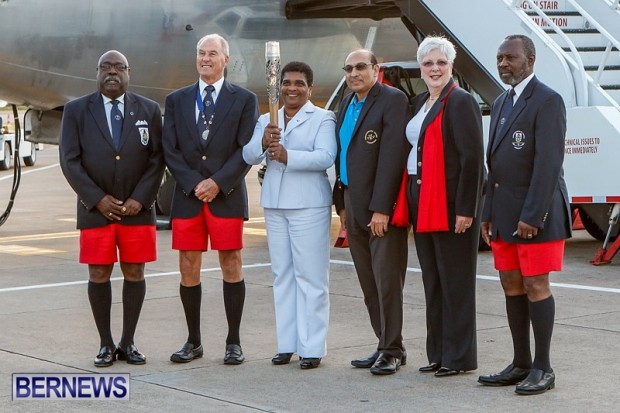 The Relay began at Buckingham Palace on October 9, 2013, with Her Majesty the Queen placing a secret message of goodwill to the people of the Commonwealth within it. During its journey, thousands of people will carry the Baton, a symbol of the unity and diversity of the Commonwealth of Nations and the core values of the Commonwealth Games Federation: humanity, equality, and destiny.
Last night a government spokesperson said, "This evening the Queen's Baton arrived in Bermuda, and Minister Patricia Gordon-Pamplin was on hand to officially welcome the Baton to the Island.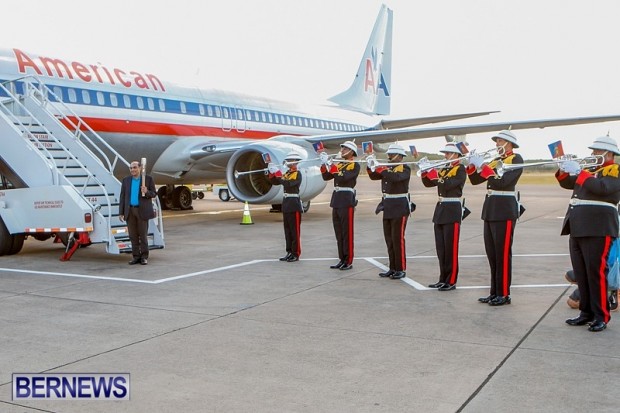 "Also joining the Minister this evening were members of the Bermuda Olympic Association (BOA) including the BOA President, BOA Secretary General, the Chef de Mission, Commonwealth Games 2014 and John Morbey, Commonwealth Games Silver Medalist 1966.
"The Queen's Baton contingent was greeted by the Bermuda Regiment and was carried off the plane by Mr. Juman Yassin, Regional Vice President of America for the Commonwealth Games Federation. It was then presented to the Minister by Mr. Morbey.
Today [Apr 26] starting at 8.45 a.m. in King's Square St. George's, the Queen's Baton Relay will begin its day-long journey across the Island, making stops in Hamilton, at the Annual Exhibition and at the picturesque Warwick Long Bay.
Throughout the day, the Baton will be received by Governor George Fergusson, the Premier Craig Cannonier, the Minister of Community, Culture and Sports Wayne Scott and former Premier, Dame Jennifer Smith.
The Baton will makes its way across Bermuda being carried by our five Commonwealth Games medalists, Clarence 'Nicky' Saunders, Brian Wellman John Morbey, Conrad Lister, and Antoine Jones, and a wide cross-section of Bermuda's population, young and old.
Click to enlarge photos:
Read More About