On Sunday [April 27] the 1st Bermuda Company of the Boys' Brigade saluted their founder Cecil Downs, who celebrated his 99th birthday on April 23rd.
Mr. Downs first joined the Boys' Brigade in Ireland when he was eight years old, and started the Boys' Brigade in Bermuda in 1960 after arriving on the island in 1958. He served as the Captain until 1986 when there were six Companies in Bermuda.
Mr. Downs was honoured in the 1986 Queen's Birthday honours list with a Queen's Certificate for his lifetime work with the Boys' Brigade in Bermuda.
Mr. Downs & Brigade member John Norsworthy who share the birth date of April 23,  but 88 years apart: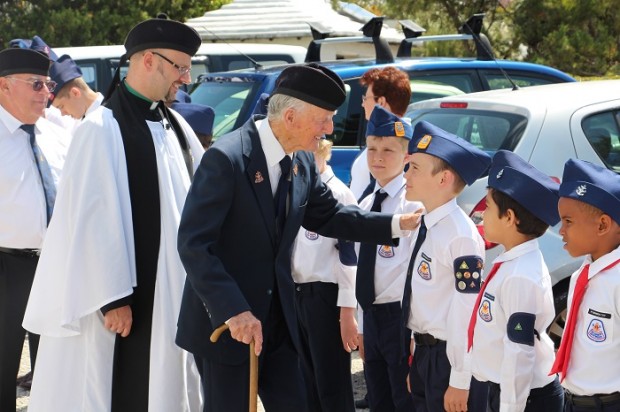 Today, there is only one Company with over 40 members presently, led by David Semos at St Paul's Church under the Priest-in-Charge, the Revd Anthony D. Pettit. The Boys' Brigade meet on Fridays in the Christian Education Centre in Paget.
The Bermuda Boys' Brigade is part of a worldwide network that has been successfully operating children and youth programmes for 130 years.
The boys engage in badge work activities under the headings of Adventure, Physical, Interest, Leadership and Community. The Junior programme is called "Go for the Gold". There are White, Green, Red, Purple and Blue badges leading up to three badges in Bronze, Silver and Gold.
The Seniors' programme follows the Juniors and in fact is a continuance of the "Go for the Gold" programme with more indepth study under the same five main headings, which the boys find challenging and rewarding upon successful completion of their projects.
For further information please contact: Bermuda Boys' Brigade First For Boys, phone 236 9349 / 334 9349 or e-mail: dasemos@ibl.bm.
Read More About