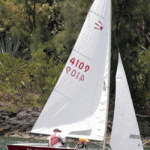 Stephen Dickinson continued his winning ways on the sailing circuit, picking up a hat-trick of wins in the East End Mini Yacht Club's Flag Pole to Flag Pole event.
Dickinson and his crew member Pat Young battled hard from the start, which was in line with the Hamilton Flag Pole, to eventually pull away from the fleet and win by two minutes, in line with the Flag Pole in the St. George's Harbor.
At the start, Heath Foggo and his daughter Kairah Foggo made a break initially, but Rockal Evans and his crew member Christine Barnard went to the front before the fleet had reached the Hamilton Princess. Soon after, Dickinson and Young got a lift and took control in the light winds.
Dickinson and Young covered Evans and Bernard and made sure he would lift the 2014 title by crossing the line in a time of 4:20:18, while Evans and Bernard finished second with a time of 4:22:46 and Gladwin Lambert and his crew member Lorenzo Lambert finished third, clocking a time of 4:27:15.
The full results of the Flag Pole to Flag Pole 2014 Comet event follow below:
4:20:18 Stephen Dickinson and Pat Young
4:22:46 Rockal Evans and Christine Barnard
4:27:15 Gladwin Lambert and Lorenzo Lambert
4:32:01 Peter Dill and Ben Smith
4:43:08 Maxwell Curtis and Stefan Furbert
4:47:35 Heath Foggo and Kiarah Foggo
4:48:00 Martin Finnigan and Mick Finnigan
4:49:09 Scott Fox and Stacey Paynter
4:49:20 Mickey Wollmann and Paul Woolmann
4:50:30 Quinton Simons and Winston Paynter
4:51:01 Dale Brangman and Shawn Smith
5:22:00 Zaniko Hendrickson and Patraig Castle
Read More About