[Updated with video] This morning [May 27] Jeanne Atherden was sworn-in as the new Minister of Health, Seniors and Environment, replacing Trevor Moniz who is now serving as the Attorney-General following the resignation of Mark Pettingill.
Mr. Pettingill — who will remain a backbencher — resigned as in order to take up a position in the private sector, which was previously reported to be at Clarien Bank, while Mr. Moniz was named as the new Attorney-General, leaving his position as Minister of Health & Environment.
Minister Atherden signs the documentation while the Governor looks on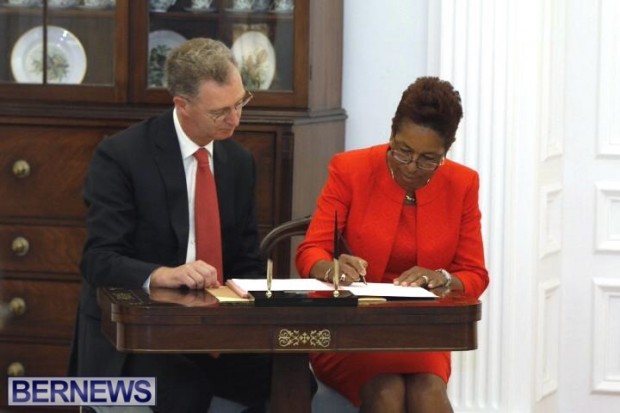 Minister Atherden graduated from the Berkeley Institute and McGill University where she attained a Bachelor of Commerce; additionally she has obtained a Chartered Accountant designation.
In 2008 she was appointed to the Senate, while being in the Senate she was appointed to serve as a member of the Parliamentary Joint Select Committee on Education.
Minister Atherden added, "I am pleased and honoured to be a part of the Cabinet team. I think I bring a unique perspective having been a member of the Bermuda Health Council, and I am looking forward to getting down to work on behalf of the people of Bermuda."
Governor George Fergusson, Minister Atherden and Premier Michael Dunkley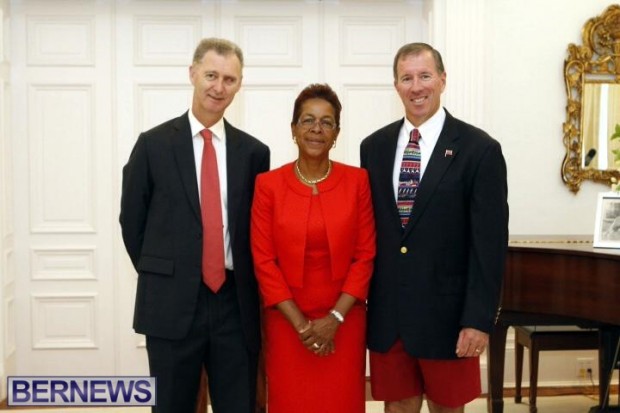 Following the recent changes, the new Cabinet is Michael Dunkley: Premier & National Security, Dr. Grant Gibbons: Economic Development & Education, Shawn Crockwell: Tourism & Transport, Patricia Gordon-Pamplin: Public Works, Wayne Scott: Community, Culture & Sport, Trevor Moniz: Attorney General & Legal Affairs, Jeanne Atherden: Health, Seniors & Environment, Bob Richards: Finance, and Michael Fahy: Home Affairs.
Read More About