North Village Community Club recently hosted a fundraiser football game showcasing their Masters and Corona teams, which was used as a fundraising event to help defray the significant medical expenses of cancer stricken patient Kamala Smith. At 31-years-old, the mother-of-two is battling cancer for the second time.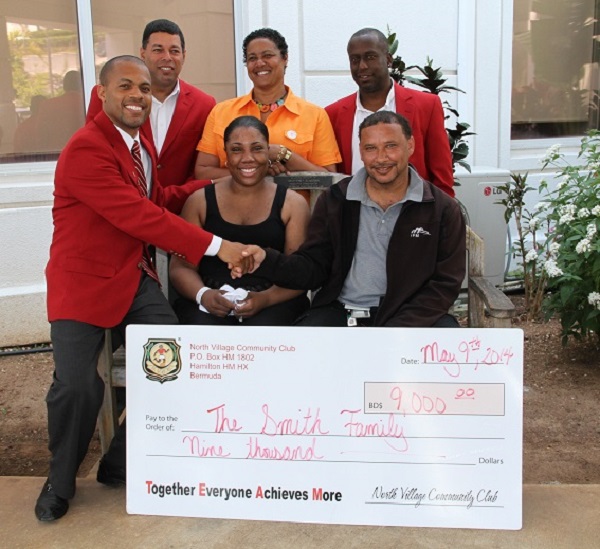 The Smith Family's ties to North Village run deep. Mrs. Smith's husband, Nakia, played for the Premier Team, the Corona Team and now plays for the Masters Team. Son Kenori plays for the U10 age group and son Nakai plays for the U8 age group.
North Village President, Stephen Coddington said "North Village came together, as families do, in times of crisis. The fundraiser game between our Masters and Corona teams raised just under $5,000.
"The event was very well attended and everyone at the game had a wonderful time and there was a true "family spirit" to the occasion with everyone enjoying each other's company. While the game resulted in a win for the Corona team [8-4] the result wasn't that important, the real winner was the cause ".
In addition, the U10 Reds team wanted to do what they could to help teammates Kenori and Nakai's mother and managed to raise over $3,000. "The efforts of our U10 boys is a testament to the values the children are no doubt learning from being part of such a community-driven club" continued Coddington.
Further, the cost of Kenori & Nakai's North Village registration fees for the 2014-15 season was generously donated by Coach Shannon Burchall and his family [$300 per child]. "Football is a great outlet for these two boys and we wanted to make sure that they were able to remain in the youth program in the 2014-15 season" said the U10 coach.
After receiving additional monetary gifts from gracious donors such as "Brazilian Football Charitable Trust" and special friends to the tune of another $1,000, North Village President Stephen Coddington presented Mrs. Smith with a cheque for $9,000.
The cheque presentation took place in the KEMH gardens. "Kamala was in great spirits and looked well. Her tears of joy and appreciation were humbling. We are all so happy that we were able to help Kamala and her family" said Coddington.
Recipient Kamala Smith stated that she was overwhelmed, "I knew very little of the fundraiser and the efforts of the North Village football teams. I was brought to tears because I am so grateful that people have rallied together like this for me.
"As a mother I am touched by the consideration given to my sons. I'm very appreciative that their fees had been settled for the coming season. I want to thank everyone that supported this fundraiser. My heart is full with the love I have received."
North Village's efforts continue for the Smith family. Several of its members, from coaches to parents to players, will be running in the May 24th half marathon. For information on how you can donate towards the "North Village runs for Kamala" contact admin@northvillage.bm.
Read More About