Trinity College School [TCS], a leading Canadian boarding school, has established a rugby trophy in honour of Bermudian Devrae Noel Simmons, who died on January 8, 2014.
Mr. Noel Simmons helped organize a number of rugby tours to Canada, making a lasting impression on his Canadian hosts.
The trophy, which is constructed of Bermuda cedar and Canadian cherry wood, features a dedication that reads, "Devrae Noel Simmons [1968-2014] was a coach and mentor to young people in Bermuda and helped to organize several rugby tours to Trinity College School.
This trophy honours his spirit and enthusiasm and will record the match results for touring rugby teams. Devrae leaves behind his wife Sue, son Dante and numerous friends in Bermuda and around the world."
Bermuda U18 players Darien Hewey and Graham Cooke present the trophy to Headmaster Stuart Grainger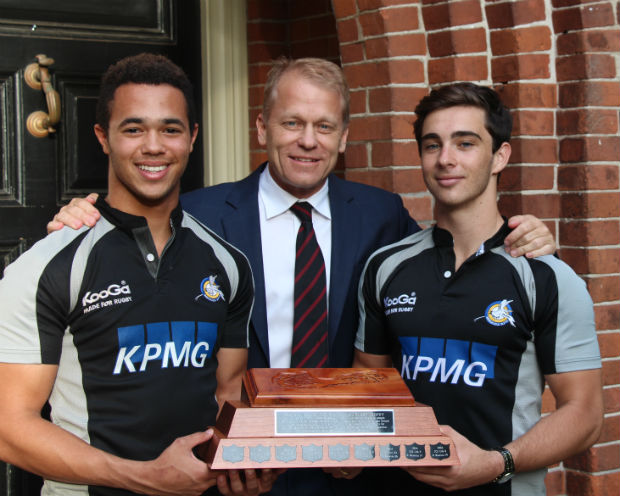 Nine matches have been played to date involving TCS and Bermuda, with Bermuda winning seven. The following match results are recorded on the trophy:
2014 @ Bermuda, TCS U16 0 Bermuda 19
2014 @ Bermuda, TCS U16 7 Bermuda 17
2014 @ Bermuda, TCS U14 32 Bermuda 24
2013 @ TCS, Bermuda U16 5 TCS 15
2013 @ TCS, Bermuda U14 26 TCS 5
2012 @ Bermuda TCS U16 5 Bermuda 17
2012 @ Bermuda, TCS U16 17 Bermuda 34
2011 @ TCS, Bermuda U16 22 TCS 5
2011 @ TCS, Bermuda U14 48 TCS 0
- Doug Mann, TCS
Read More About