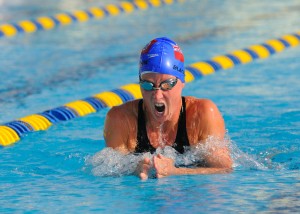 Aiming to qualify for the Olympics in Rio de Janeiro in 2016, Lisa Blackburn has decided to relocate to Ottawa, Ontario and to focus solely on her swim training for the next 2 years.
Having resigned from her full time professional position, Ms. Blackburn is now able to focus 100% on all of the necessary pillars of her sport.
Ms. Blackburn said, "I can now focus on all of the little things that make a big difference such as nutrition. The best part about this change is that I will now be able to focus a lot more of my time on rest and recovery.
"I haven't been able to train like a professional in nearly 10 years, so this is an awesome opportunity and I'm excited to have made this decision and be further committing to my dream of qualifying for the Olympics".
Ms. Blackburn feels the transition to her new home in Ottawa has gone very well and is excited about the opportunities that lie ahead, saying: "It's not every day, you resign from your job, leave your home and give up a comfortable life in Bermuda for the grueling 24/7 training that is required to become an Olympian.
"I don't want to have regrets in 2 years. I didn't want to be sitting at my desk for the next 2 years, wondering what could have been. At first it was a hard decision to make, but now that the decision is made, I feel a great sense of relief! The journey has been amazing thus far.
"Most people are encouraging, however some people just don't understand why I would make such a big change at this stage in my life. I ask those same people 'What is your dream, and what are you are doing to make it happen?' Life is too short to sit on the sidelines and wait for someone else to give you an opportunity. Sometimes, you have to make the opportunities happen for yourself."
Ms. Blackburn will be training with head coach Dave Heinbuch of the University of Ottawa Gee Gee Swim Team. Dave Heinbuch was named the Head Coach of the Gee-Gees swimming program following the 2012-13 varsity season. The native of Kitchener, Ont. was a 1976 Canadian Olympian and has been a professional swim coach for over thirty years.
The decision to move to Ottawa was in large part driven by the historic relationship between Ms. Blackburn and Mr. Heinbuch – in the late 1990's and up until 2001, Ms. Blackburn achieved great success training with coach Heinbuch.
Having dual citizenship with Canada, she qualified for the Commonwealth Games and produced elite level results including winning medals at the Pan American Games in 2003.
Ms. Blackburn said, "Back then, being 30 and qualifying for the Commonwealth Games was unheard of. I can only imagine what people will say now that I am vying for the Olympics in my 40s, but for me age is not a barrier or a reason to stop doing something that I love. It is just a number that I don't pay much attention to. As Dara Torres [a US Olympic medalist in swimming at age 41] said "The water doesn't know how old you are".
"My experience and work ethic are assets that I draw on as positives. I have previously achieved the times I need to qualify for the championship meets on many occasions. This body and mind knows what to do.
"I just need to draw on what worked for me then [and add some more recovery time] in order to reach those times again. Being in a familiar environment with Coach Heinbuch, yet surrounded with a more accomplished group of swimmers will help me be in the right "zone" to achieve my goals".
Ms.Blackburn will be launching a Fundraising Campaign with Dream Fuel, a premier high-level crowd-funding platform specifically designed by and for athletes. Anyone wishing to make a donation can do so by visiting here.
Read More About