A total of 200 Bermuda Regiment soldiers pitched in today [Oct 13] to help cope with the damage caused by Tropical Storm Fay.
Teams fanned out across the Island, putting tarpaulins on the roofs of 30 damaged homes, clearing the roadways of trees and other debris and clearing up around schools.
One Immediate Response Team [IRT] spent the afternoon clearing loose and broken slates from the roof of a home in Somerset and making it water and windproof.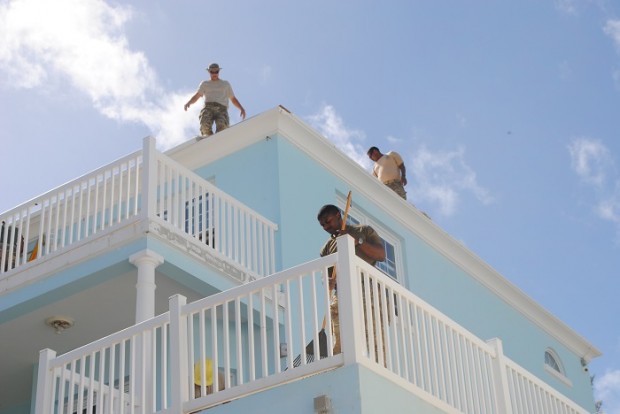 House owner Mike Corday said: "I'm very appreciative. I had heart surgery a few months back – this is a Godsend. I'm deeply grateful the soldiers came – they've been pleasant and professional."
Mr Corday added: "It's great the Regiment does this kind of thing. We know the Regiment does a good job when they're embodied and come out to help people. But you don't really appreciate them until it's you that needs the help."
IRT Pte Shaun Richards, one of the squad who helped the Corday family, said: "People are very happy to see us, especially when we're doing road clearing.
The 25-year-old IT auditor from Devonshire added: "People even stopped and gave us sodas and snacks. Everybody's grateful to see us, especially after such a rough hit."
Other Regiment soldiers worked alongside staff from Works & Engineering and the Parks Department to clear roadways and safely dispose of fallen trees.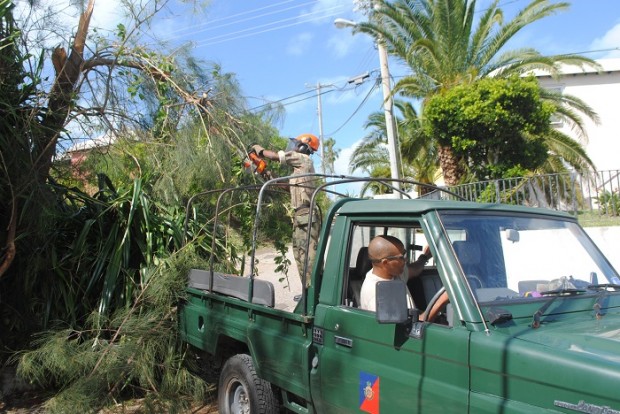 Cpl Morriko Iris, 23, from Smith's, who is employed at Works & Engineering in civilian life, cleared dangerous trees in Somerset
He said: "I've been doing chainsaw operations – I love it. I enjoy helping people and everybody's been positive about what we're doing. They find it reassuring just seeing us out there. We get a lot of appreciation at times like this."
Regiment CO Lt Col Michael Foster-Brown said soldiers had also distributed 150 tarpaulins to households affected by the storm.
He added that the Regiment was already gearing up with plans for deployment if Hurricane Gonzalo hits Bermuda at the weekend.
Col Foster-Brown said: "That's why we are very focused on clearing roads – branches and debris could become missiles if a hurricane comes."
And he added: "What all this does is demonstrate the flexibility of a disciplined military force with its own command structure and communications – it can turn its hands to many things.
"What we've been doing is not our primary role, but it's one we're very proud of and it's a privilege to support our fellow Bermudians."
And Col Foster-Brown said: "If Hurricane Gonzalo does come, we will be ready to do it all over again."
For all our coverage of Tropical Storm Fay click here, and for our live blog click here.
Read More About
Category: All