[Written by Talbot Wilson]
Ian Williams [GBR] GAC Pindar made a near perfect start to in the Argo Group Gold Cup in Bermuda yesterday. The British skipper who stands top of the the Alpari World Match Racing Tour and is 2nd in the ISAF rankings, goes into today's remaining round robin flights leading group 1.
Day 1 qualifying matches for Group 1 [photo courtesy Talbot Wilson]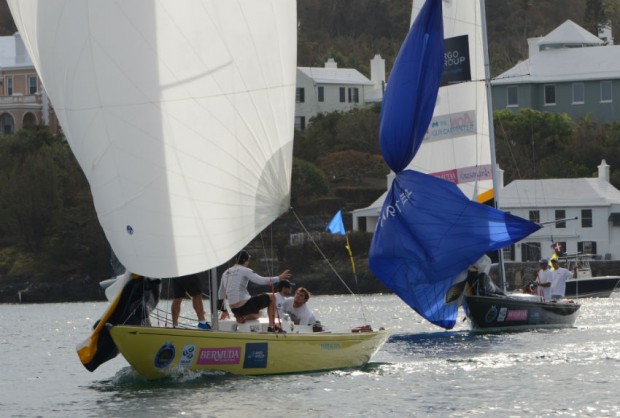 Williams won all four matches but lost half a point after failing to cross Francesco Bruni [ITA] Luna Rossa during their close match so led the Group 1 Round Robin with 3.5 points. Bruni's bow roller caught William's backstay and the two boats twirled round locked together for what seemed an age. Both skippers were penalized 1/2 point for the incident.
Leading Group 2 is Marek Stanczyk [POL] Henri Lloyd Rainmaker Racing, a former Polish Match Race Champion. He finished the first day with a perfect 4 points and no losses. Stanczyk defeated Mathieu Richard [FRA] LunaJets, Eric Monnin (SWI) Swiss Match Racing Team, and Nathan Outteridge [SWE] Artemis Racing.
Group 2 Day 1 Qualifying stage [photo courtesy Talbot Wilson]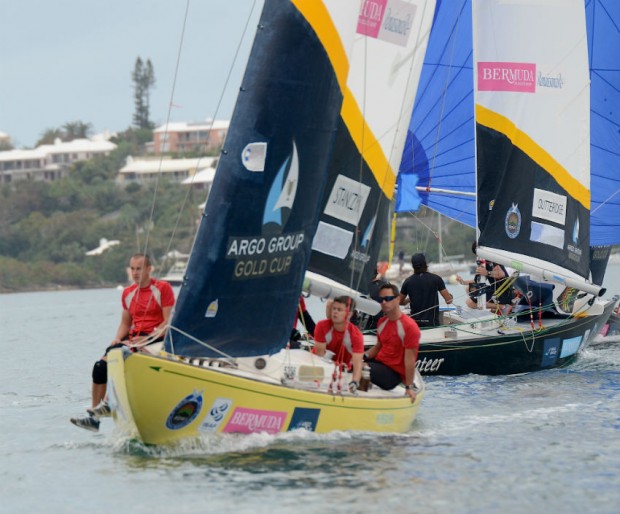 Taylor Canfield [ISV] US One, top seed in Group 2, has 3 points. He is tied with Eric Monnin [SUI] Swiss Match Racing Team and Staffan Lindberg [Fin] Alandia Sailing Team
Current results are posted online. Sailing starts again on today [Oct 23] at 9.00 AM ADT with more qualifying matches.
The 2014 Alpari World Match Racing Tour Standings coming into the Argo Group Gold Cup were as follows:
Ian Williams [GBR] GAC Pindar 94pts
Taylor Canfield [ISV] US One 88pts
Mathieu Richard [FRA] LunaJets 76pts
Bjorn Hansen [SWE] Hansen Sailing 63pts
Keith Swinton [AUS] Team Alpari FX 58pts
Phil Robertson [NZL] WAKA Racing 56pts
David Gilmour [AUS] Team Gilmour 39pts
Francesco Bruni [ITA] Luna Rossa 20pts
Read More About