Connor Burns and EJ Burrows of Bermuda Aerial Media have won the top prize at the International Future Agro Challenge at Industry Disruptors 2014 in Athens, Greece, winning €7,000 [$8,715] capital funding for placing first in the competition.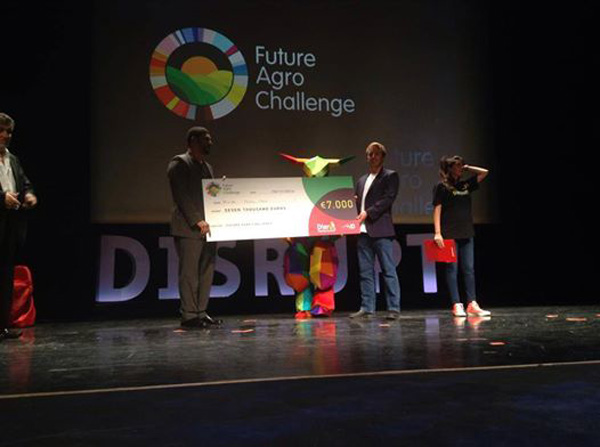 Founded and run by Industry Disruptors – Game Changers, FAC is the world championship for innovators, visionaries and leaders looking to solve agricultural challenges. This year marks the first time that the event is featured as a highlighted event, or global pick, of GEW.
Connor and EJ founded Bermuda Aerial Media in 2013 as Bermuda's first licensed and insured aerial photography, video and photogrammetry company using GPS controlled multi-rotor UAVs. This company won the 2013 Bermuda Technology Innovation Award presented by the Department of E-Commerce.
Just recently, EJ relocated to Alberta, Calgary to launch Skymatics as a Canadian subsidiary specializing in the use of UAV's to provide photographic services & equipment for the agricultural, oil & gas, real estate, construction and many other industries in the area.
It was this component of the company that captured the FAC judge's attention for utilizing its cutting edge technology in robotics, engineering, and computer software and applying it in diverse ways to aid in agricultural land management by monitor large tracks of farmland for moisture and nutrients content and instantly conveying this information back to central control stations.
FAC targets entrepreneurs in agribusiness and focuses on innovative development and fresh ideas. With food processing on the rise, globalization boosting mass production and living a healthy lifestyle taking the center stage, agriculture is constantly changing and growing.
The ten who pitched on November 15th -16th included: ifarma/ Agrostis from Greece, Bermuda Aerial Media from Bermuda, ReGenerate from Bulgaria, Pronat-Agro from Moldova, IBDA3 from Morocco, St.George Valley Organic Farming from Albania, GRØD from Denmark, Djazaltecfrom Algeria, Wilhelms Best from Germany, eKatun.com from Kosovo. To learn about all finalists visit here.
During the Bermudian competition, which was conducted by Bermuda Economic Development Corporation in October, BEDC Board Member Sheilagh Robertson said, "Bermuda Aerial Media is a good example of a small company founded by two young Bermudians who are taking advantage of cutting edge technology in robotics, engineering, and computer software and applying it in diverse ways.
"The partners Connor Burns and EJ Burrows, have the vision to look beyond Bermuda's shores to create a business that has the potential to expand globally as they are pioneers in a new field."
Jamillah Lodge, Program Officer at BEDC added, "I am so happy for Connor and EJ! I recall challenging them to enter the FAC competition while we were at the Global Entrepreneurship Congress in Moscow in March. Fast forward 8 months and they have taken top honours against global competitors which is something that all Bermuda can be proud of.
"Their win is the realization of a personal goal that I have had since becoming involved with GEW, to get our local entrepreneurs international exposure so that they increase their opportunity for success. Well done guys!"
Read More About
Category: All, Business, News, technology