Bermuda's Teresa Perozzi is getting set to take on American boxer Kali "KO" Reis for the IBA Middleweight Championship title fight this coming Friday [Nov 21] at the Fairmont Southampton.
In a recent interview, Ms. Perozzi said, "I'm going to take the fight to her. She's going to try to box me on the outside. She's coming up one weight class. She normally fights at 154. We're meeting at a catch rate of 158. You know, I really think she's going to try to just move the ring and box."
Her last two fights in Bermuda have ended in draws, and when asked what will be different this time, she said, "This time I'm not going to let it be that close. I plan to make it clear cut….I'm the winner."
The Gombeys lead Teresa Perozzi into the ring in a 2012 fight:
Asked about getting back in the ring, she said, "I think when I found out I was pregnant, which was a surprise for us. We weren't planning that. I realized I had to cancel a fight that I had coming up. It made me realize I still had that passion.
"I wasn't doing it just to get paid because I had committed. I was upset that oh my gosh, I'm not going to be able to fight. Of course people are saying, 'oh, well, you're going to retire now'" I'm like, 'why? I can stay in shape. I can do this.' I did. It's just been my focus from that moment.
Asked about being a role model, Ms Perozzi said, "I'm 40, so people who are 40, whether they're trying to have a baby, or they think it's too late to have a baby. I have re-inspired them and just to stay in shape and how being fit does help you recover and make your pregnancy go smooth. I feel great about it."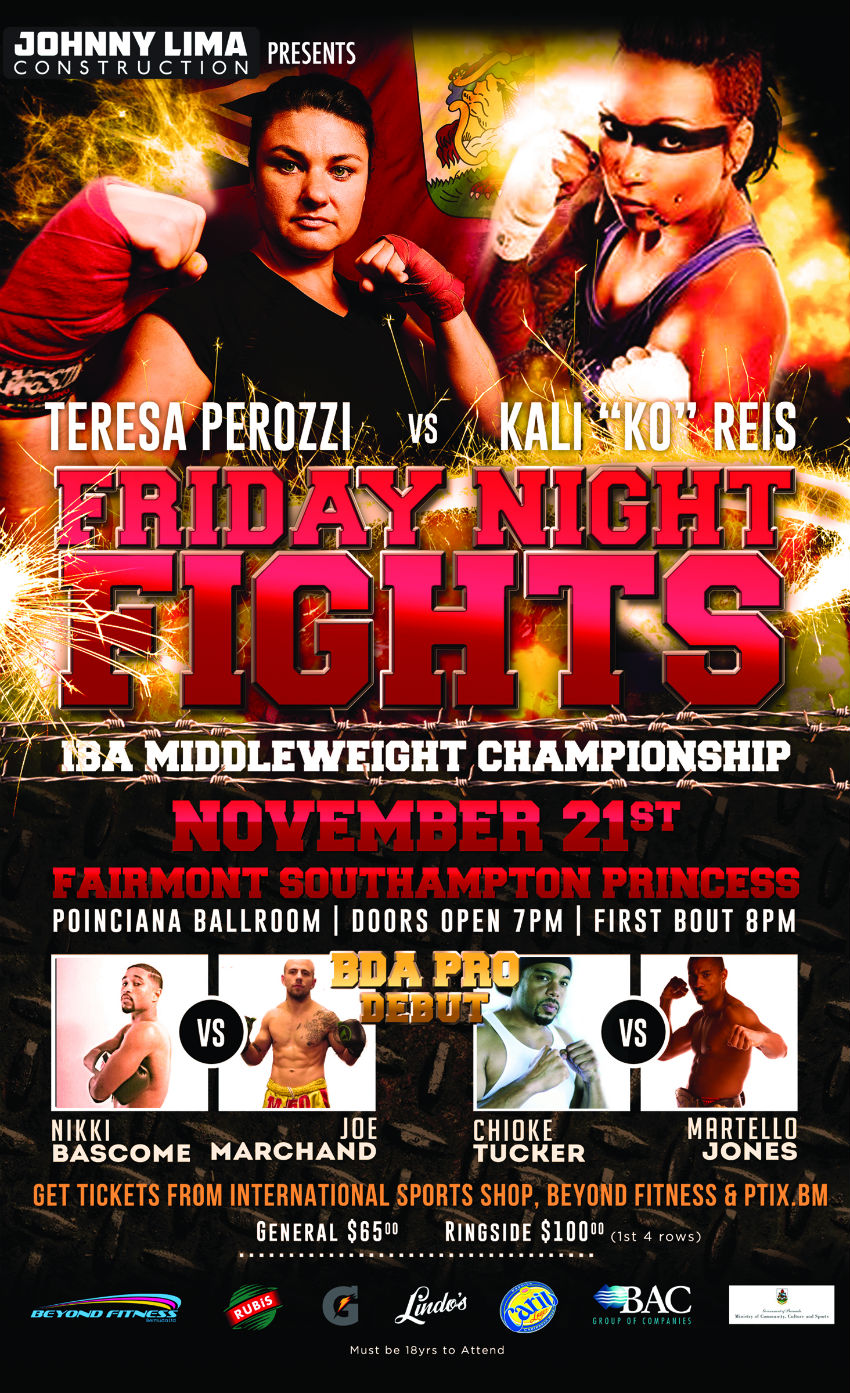 Friday Night Fights will take place in the Fairmont Southampton's Poinciana Ballroom, with the doors opening at 7.00pm and the first bout beginning at 8.00pm. General tickets cost $65 while ringside tickets cost $100, with both available from International Sports Shop, Beyond Fitness, and ptix.bm. Tickets are restricted to those 18 years and older.
The event will also see bouts between Nikki Bascome and Joe Marchand, as well as Chioke Tucker and Martello Jones.
Read More About