Clarien Bank has today [Nov 13] announced the first donations have been made from The Clarien Foundation, its newly formed entity.
A spokesperson said, "The Clarien Foundation is a charitable trust which oversees and executes all charitable endeavors and donations made by the Bank. The Foundation is committed to making annual donations to Bermudian charities with the aim of making substantial improvements across youth development, education, health and human services.
"Notably, the Foundation has made a donation to support the Centre on Philanthropy, a membership organization providing education and services to improve the effectiveness and efficiency of Bermuda's non-profit, charitable and volunteer sectors. The Centre is aligned with Clarien's core values of supporting philanthropic causes with the aim of improving the experiences and services of Bermudians."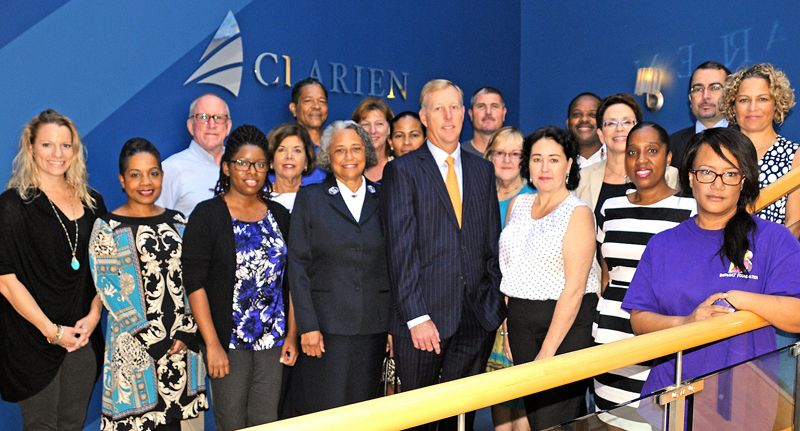 Ian Truran, co-CEO Clarien Bank and committee member of The Clarien Foundation, commented: "In launching the Clarien Foundation we have created a self-sustaining giving fund that stands a symbol of the charitable nature of Clarien Bank's employees, all of whom donate their time to support it.
"Clarien Bank is committed to enhancing the lives of the people of Bermuda and continues to donate,through both time and money, to a broad cross-section of philanthropic associations on the island."
Other recipients for the Foundation's initial donations include the Centre for Talented Youth, providing top level education to talented pre-collegiate students regardless of their ability to pay, the Bermuda Cancer & Health organization and the Bermuda National Gallery.
In total there are 16 charities receiving donations in 2014:
Bermuda Cancer & Health
Bermuda Equestrian Federation
Bermuda Football Charitable Trust
Bermuda National Gallery
Bermuda Sloop Foundation
BSmart
Centre on Philanthropy
Centre for Talented Youth
Eliza Dolittle
Friends of Hospice
Meal on Wheels
PALS
Raleigh International Bermuda
Salvation Army
Tomorrow's Voices
Youth Net
Read More About