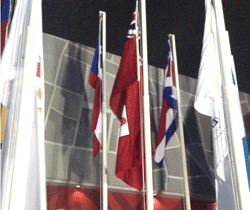 Bermuda's flag was raised as part of the start of the XXII Central American & Caribbean [CAC] Games in Veracruz, Mexico. The Games Opening Ceremony is scheduled to take place in the coming days, and the Flag Raising Ceremony is to recognize member countries taking part in the Games.
Attending on behalf of Bermuda was the Chef-de-Mission Donna Watson, Assistant Chef-de-Mission Katura Horton-Perinchief along with Richard Johnson and Vickie Outerbridge.
41 Bermuda athletes will compete at the CAC Games, which are on of the oldest continuous-running regional games, dating back to 1926. Held every four years, the Games typically host competitors from countries in Central America, the Caribbean, Mexico, Bermuda, and the South American countries of Surinam, Guyana, Colombia and Venezuela.
The following athletes will compete for Bermuda at the CAC Games:
Tyrone Smith Athletics
Shianne Smith Athletics
Nicole Mitchell Cycling
Dominique Maho Cycling
Zoenique Williams Cycling
Virginia McKey Equestrian – Dressage
Jillian Terceira Equestrian – Show Jumping
Patrick Nisbett Equestrian – Show Jumping
Cameron Pimentel Sailing
Cecilia Wollmann Sailing
Roy-Allan Burch Swimming
Julian Fletcher Swimming
Lisa Blackburn Swimming
Alexandra Wheatley Hockey
Azari Thomas Hockey
Francesca Cacace Hockey
Jennifer Beech Hockey
Jennifer Chisnall Hockey
Jessica Hollis Hockey
Katherine Masters Hockey
Keishae Robinson Hockey
Maya Palacio Hockey
Melanie Fullerton Hockey
Renee Greenslade Hockey
Ryce Trott Hockey
Selina Whitter Hockey
Tse Minors Hockey
Yvonna Osborne Hockey
Zuri Phillip Hockey
Andre Landy Rugby
Antonio Perinchief-Leader Rugby
Darren Richardson Rugby
Jahan Cedenio Rugby
Joshua DeAllie Rugby
Kamel Easton Rugby
Neville Zuill Rugby
Patrick Richardson Rugby
Somers Brewin Rugby
Steven Husbands Rugby
Tashon DeSilva Rugby
Thomas Edwards Rugby
Read More About