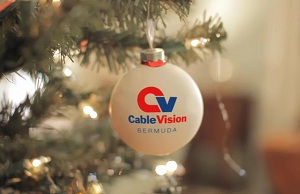 Bermuda CableVision is renewing its tradition of giving customers an array of TV viewing options for the holidays, with the free preview set to run from Saturday, 20 December to Monday, 5 January 2015.
During this period, all CableVision TV subscribers will have access to the company's complete line-up of standard digital TV channels, at no extra cost.
This includes the full Deluxe, Super and Variety Tiers as well as all the Premium channels, including eight HBO networks; six Cinemax networks; ten Showtime channels; six TMC channels; and the MaxPack channels SportsMax and SportsMax2.
Terry Roberson, CEO of Bermuda CableVision says, "We are pleased to give the gift of great TV as a special 'thank you 'to our customers. We truly appreciate their business, and of course their patience during the recent storm restoration efforts.
"The Holiday Free Preview has become something of an annual tradition for CableVision, and we trust our customers will once again enjoy the vast selection of programming they can share with family and friends this holiday season."
The Free Preview does not include paid VOD [Video-on-Demand] content from Channel 500, the HDTV channels or Pay-per-View selections.
A spokesperson said, "While there will be plenty of family-friendly programming on offer, some of the content which will air during the Free Preview is not appropriate for young audiences. CableVision is reminding its customers of the easy-to-use parental control options that are part of their digital TV package, enabling them to block unsuitable programming by time, channel number or content. Instructions for using the parental control features are available on the company's website at www.cablevision.bm."
Read More About
Category: All, News, technology