Looking for somewhere to take the kids for a bite? Who's going to give you a more honest, bite-sized review than an 11-year-old? Eliza Olander, from St David's, is a Grade 7 student at Learning Express Academy in Devonshire.

[Written by 11 year old Eliza Olander...with a little help from Uncle Tony]
Location: The Flame, 89 North Shore Road, Devonshire
First impressions: It's a beautiful place, with an amazing view. Every once in while you see seagulls but apart from that its just open water, no land — it's perfect.
It makes you wonder, how far does that go out? You can just see a straight line, the horizon, and it goes on and on.
Eliza enjoyed her chicken chunks and fries in the warm and welcoming dining room at The Flame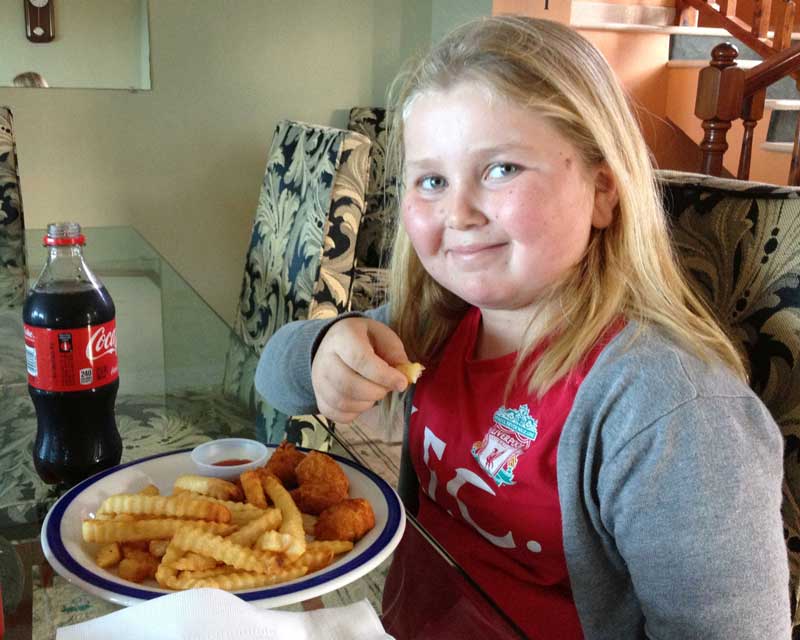 Main course: Chicken chunks [$7] and fries [$4]
They are just like chicken nuggets. They have a good flavour but they don't taste greasy like other chicken nuggets — you don't get the grease here.
Maybe they use a different kind of oil because it definitely tastes better than your normal fried chicken.
I like to have sweet and sour sauce — it gives the chicken a little sweetness and I can tell you, it goes perfectly. Some people just have plain ketchup.
On a scale of one to ten, right now I would rate these chicken chunks a nine. They taste great. A little more spice of some sort would make them a ten.
The fries are warm and fluffy inside and not too hard on the outside and not too salty, either. I think the crinkles make them a little more filling — in some other places, fries they are thin and dry and over-fried.
Portion size: It was evenly portioned out. Just the right amount of fries and chicken chunks.
Drink: Bottle of Coke [$2.75]
Dessert: Half a portion of vanilla/half a portion chocolate ice cream [$3 in total] The chocolate is not too strong. Sometimes chocolate ice cream can be a little strong but this has just the right amount of sugar and the right amount of cocoa.
The vanilla is nice and creamy, it's almost like a whipped cream taste. I swirled the chocolate and the vanilla together and it's delicious.
Service: First we were downstairs, where you order, and I thought it was cute.
Then the lady [Jennifer Seymour, who runs The Flame with her husband Greg] brought us upstairs to this beautiful dining room, because it was a little too windy outside.
She is a very kind lady. And I thought I was very special to be brought up here to this cosy dining room. You can still see the sea from here, it's sparkly and you can also see the open sky with huge, puffy white clouds.
Loving the view: Eliza on The Flame's North Shore patio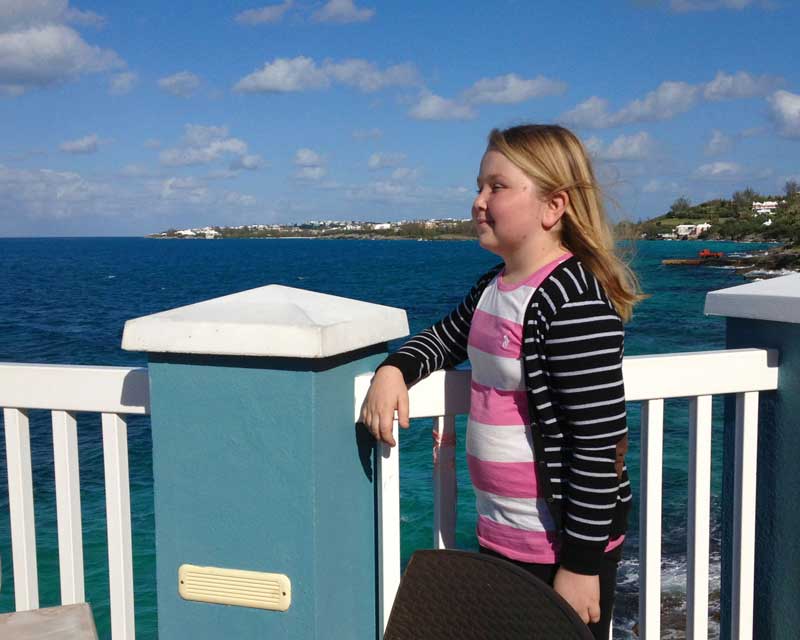 Overall experience: The service here is great, the view is amazing. I really hope that a lot of people will come here, because it's unique. It's different to any other place I've been to.
There's only one restaurant like this where they'll bring you into the house if it's a bit chilly. They don't let you down.
And it's not just a restaurant — the lady said they rent it out to people. I thought it was just a restaurant. There's something really special about this place.
- Eliza Olander

Read More About
Category: All, Entertainment, News