Lunch with Uncle is back! Eliza Olander's food column started in the Bermuda Sun and last appeared in the paper's final edition in July. Now it has a new home here at Bernews.
Looking for somewhere to take the kids for a bite? Who's going to give you a more honest, bite-sized review than an 11-year-old? Eliza Olander, from St David's, is a Grade 7 student at Learning Express Academy in Devonshire. Here's her first column for Bernews.

[Written by 11 year old Eliza Olander...with a little help from Uncle Tony]
Location: CV [Conscious Vibes] Cafe, Water Street, St George's
First impressions: It's a really cosy place to come to. There is smooth music and they have a nice sitting room where they have free WiFi.
I could just sit down all day here with my iPad — it's a very relaxing place.
The cafe is based on Fair Trade so everything is the best quality you can find.
Eliza Olander enjoys her 'best ever' cup of hot chocolate at CV Cafe.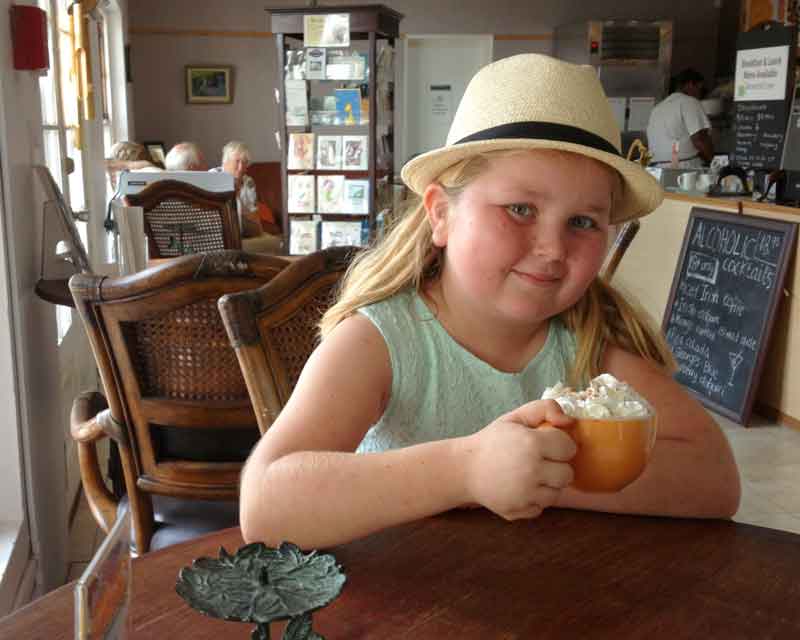 Drink: Hot chocolate with whipped cream [$4.50]. It's creamy, nice and sweet and not too hot. I think of all the hot chocolate I have had — and I'm not kidding about this — it really is the best. It has lot of rich, chocolaty flavour.
Main course: Panini with chicken, onions mushrooms & cheese [$8.95]
When you bite into the sandwich and taste the mushrooms and the onions — it's fantastic. I love the chicken because it's perfectly cooked; not undercooked or overcooked — it's perfect.
I thought at first that the chicken could have been grilled a little longer to make it browner on the outside. But it tastes great and the bread is grilled perfectly.
When you take a bite and smell the onions, it's just delicious. The onions are not too strong — they are actually quite sweet and that's why I love them.
Eliza Olander admires the vintage, red telephone box outside CV Cafe in St George's.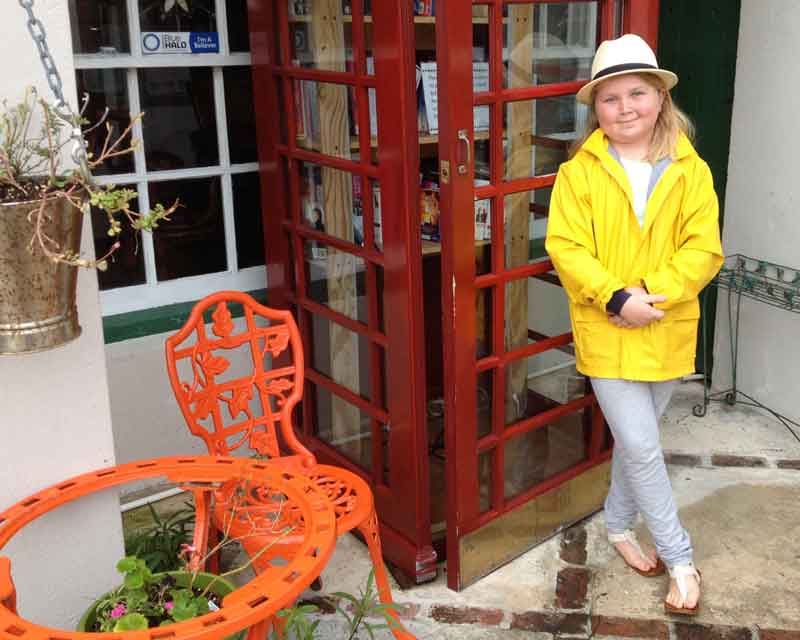 Service: Mrs [Michelle] Wales [the proprietor] is always very nice. It's always service with a smile.
I have known Mrs Wales for a long time because she was my computer teacher at St George's Prep. I think she is a great person and her café is great, too.
Portion size: For me the panini was perfect.
Overall experience: Great service, the food's wonderful and the look of the place is good, too.
It's quite a simple place, with simple food. It is very clean and the tables are not covered in crumbs when you come in. I always enjoy it when I come here.
- Eliza Olander

Read More About
Category: All, Entertainment, News