[Updated with video] The Bermuda Police Service provided details about their Road Safety Strategy today [Jan 20], detailing initiatives that aim to make the island's 225 km of roads safer, with the report noting that there are "currently unacceptable levels of collisions of all classifications."
Police Commissioner Michael DeSilva said, "It is a broad-based plan that proposes a collective approach to road safety across a wide field of government departments and community groups.
"It acknowledges that traffic collisions, in the main, result from poor decisions and bad driving behaviours. Accordingly the plan places an emphasis on the personal responsibility each driver and rider in Bermuda has to drive safely."
"At the centre, the plan calls for robust enforcement from the police that is intelligence led. We will target the drivers and the behaviours that present the greatest threats to safety on the roads. And we will conduct the enforcement in the areas where the dangerous driving occurs most frequently."
Chart extracted from the report: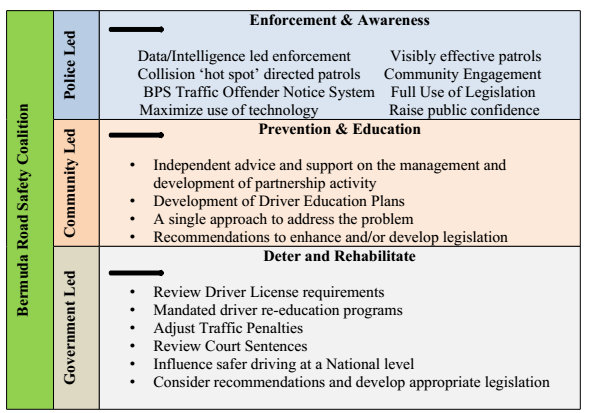 The report opens by saying, "There are 225 km of paved public roads in Bermuda. These roads are traversed by 46,109 registered motor vehicles. The roads are shared between the general motoring public, visitors and pedestrians as well as organized sporting bodies [runners and bicyclists].
"There are currently unacceptable levels of collisions of all classifications. This includes damage only, slight injury, serious injury and fatality related collisions. Road traffic related fatalities and serious injury collision numbers are disproportionate given the relative small Bermuda population.
"Millions of dollars in vehicle and private property damage and the continuing elevated expense to the medical infrastructure affects every island resident through insurance premiums."
The BPS has identified key points in its Collision Reduction Performance Control Plan:
Identification of collision 'hot spots,' including intelligence-led collision data analysis of current collision trends by location.
Effective visibility of identifiable Roads Policing Officers, including increased momentum of the Roads Policing Strategy through effective and directed deployment of resources.
Raise awareness of bad driving behavior through a balance of enforcement and education, including the introduction of a BPS Traffic Offender Warning system.
Use of CCTV and ANPR technology to detect, prevent, catch and convict traffic offenders.
Initiate a Road Safety Coalition that will raise stakeholder awareness of intelligence and data analysis around collision 'hot spots' and TWOC activity. Combine stakeholder resources to meet the objectives.
Regular performance review and evaluation of the Road Safety Strategy, including measuring and evaluating all enforcement, BPS Warnings, Social Media and survey results collectively against collision data.
The full statement from Commissioner of Police Michael DeSilva follows below:
"Much has been published in the media recently about the number of road traffic collisions in Bermuda. The reports have included the tragic deaths of 16 motorists in 2014 and 2 in the first month of 2015. They have included observations about the long term effects of serious injuries resulting from collisions, the costs attached to healthcare and insurance, and the high number of collisions relative to the size of our population.

"The data shows that, in the 7 year period between 2008 and 2014, 29 lives were lost to gang and gun violence while 86 lives were lost on our roads. At a ratio of 3 to 1 we believe that a long-term solution that has national support is critically important. This is not a new problem, but it clearly needs a new solution."

"We have been reporting on the development of the BPS Road Safety Strategy that I am pleased to present today. It is a broad-based plan that proposes a collective approach to road safety across a wide field of government departments and community groups.

"It acknowledges that traffic collisions, in the main, result from poor decisions and bad driving behaviours. Accordingly the plan places an emphasis on the personal responsibility each driver and rider in Bermuda has to drive safely."

"At the centre, the plan calls for robust enforcement from the police that is intelligence led. We will target the drivers and the behaviours that present the greatest threats to safety on the roads. And we will conduct the enforcement in the areas where the dangerous driving occurs most frequently."

"But the police cannot be everywhere at the same time and Bermuda cannot police its way out of this problem. In addition to enforcement, the strategy provides two other opportunities to engage drivers to influence changes in their own behaviour. Firstly, at the front end, prevention and education must be designed to create safer drivers.

"Secondly, at the back end, rehabilitation must be designed to deter traffic offenders from re-offending."

"These three areas of approach – education, enforcement and rehabilitation – are designed to work in concert with one another to provide multiple solutions from across the full spectrum of our community. The strategy has a main goal of saving lives by reducing collisions and making our roads safer."

"Driving is a learned behaviour and the culture of driving relates to people's attitudes towards driving. The solution is not punishment in isolation. Robust enforcement must be combined with equally robust education, prevention and rehabilitation programmes.

"Good driving habits must be re-learned and good decision making must be encouraged. The police are committed to doing our part by reporting traffic offenders and educating road users. But we are looking forward to being part of a larger effort across the board to calm down our roads before more lives are lost.

"We believe that road safety is everyone's responsibility."
-
The full statement from Inspector Robert Cardwell, Officer in Charge of Roads Policing Unit:
"The Road Safety Strategy identifies a clear Police-led role. That police role is in enforcement of roads and motoring laws and raising awareness of bad driving behaviour."

"We have reviewed our own statistical data. We have concluded that in the past where we have enforced alone by citing motorists with moving violation tickets, that this effort has not actually impacted on bad driving behaviour; has not impacted on reducing collisions and has not impacted on reducing the number of road traffic related fatalities."

"Police Officers on patrol traditionally have occasion to stop motorists for minor traffic offences. Those minor offences are at times disposed of by the officer exercising his professional judgment and warning the offending motorist about the offence committed and giving advice.

"The offender is not placed before the court. We believe that we can have an impact on reversing the current trend of bad driving behaviour currently being experienced on the roads by the motoring public through higher levels of engagement of this nature."

"In aiming to strike a balance between enforcement and raising awareness the Bermuda Police Service has introduced a Motorist Advice Notice.

"This notice will be issued to a person who has committed a minor traffic offence, and where the officer believes through his engagement with the offending motorist that the offender has accepted the advice offered, and the officer believes it would be appropriate and proportionate to exercise his professional judgment by not placing the offender before the courts.

"We have created an internal system to record instances where officers have exercised their professional judgment for future reference and in the event another officer might come across the same motorist for the same offence and might be considering issuing a Motorist Advice Notice."

"We will continue to target specific motoring offences through the Selected Traffic Enforcement Program [STEP]. This includes Impaired Driving and Dangerous Driving offences. A person caught committing either of these offences can expect to appear in the Hamilton Magistrates Court."
-
The full Road Safety Strategy report follows below [PDF here]:
Read More About
Category: Accidents and fires, All, News, Videos