Finance Minister Bob Richards said Bermuda will have to borrow money again this year, and while the exact amount we will be borrowing is unclear, the Minister did confirm that we will need to "go to the markets before the end of this fiscal year."
In 2013 the Government borrowed $800 million which they said was "anticipated to cover three years government operating deficits."
Back in June 2013 when the announcement was made, the Minister said: "We judge that we are in the last phase of the ultra- low US$ interest rate cycle. As the US economy gains strength, US$ interest rates, and therefore bond yields and borrowing costs, are highly likely to rise.
"Borrowing three years' worth of deficits now will save the government tens of millions of dollars of financing costs. This will give us certainty of financing as well. Instead of borrowing on a year to year basis in a rising market, we will be locking in three years at low rates."
The Bermuda Government borrowed $750 million in July 2013, and then borrowed another $50 million in December of that year, to make a total borrow of $800 million in 2013.
Minister Richards original press conference about the borrowing in June 2013
The Minister initially stated that we would be borrowing again this year during his recent appearance on Let's Talk, and subsequently confirmed to Bernews.
In last year's budget, it was said that as of 31 March 2014, "gross public debt will stand at $2.305 billion and debt, net of the Sinking Fund will stand at $1.772 billion."
The 2014/15 budget said the revenue estimate for 2014/15 was $901.7 million, while the overall budget expenditure including current account and capital account outlays, debt service and sinking fund contributions was $1.169 billion.
"The overall budget balance is projected to be a deficit of $267.3 million," Minister Richards said when delivering last year's budget.
"This represents a $64.3 million or 19.4% deficit reduction when compared to the 2013/14 deficit of $331.6 million. So we are moving in the right direction but much more work is required."
Headline figures extracted from the 2014/14 Budget [PDF]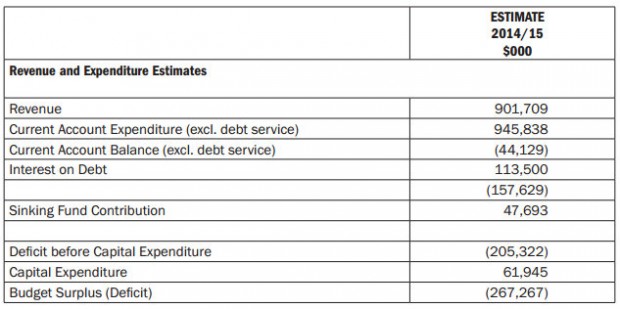 The last official numbers we have about the island's debt are from November 2014, when the the Ministry of Finance reported on the 2014/15 First Half Fiscal Performance, saying that "gross debt stood at $2.185 billion at the end of September 2014."
At that time the Government said for the first three months of 2014/15 the Government incurred a deficit of $63.8 million, and also noted that debt service to date was $7.1 million more than last year's period, which they attributed to higher debt levels.
The 2015/16 budget is due to be unveiled in February.
Read More About