According to the recently released National Economic Report of Bermuda, the island has lost 6,726 jobs since 2008, which is a reduction of 16.7%, with 790 of those positions lost last year.
The report — which was released on Friday [Feb 20] — said, "Preliminary data from the 2014 Employment Survey indicates that the total number of jobs in Bermuda decreased by 790 posts from 34,277 in 2013 to 33,487 in 2014, which equates to a 2.3 per cent decline.
"2014 marks the sixth year that the number of jobs in the economy has declined which corresponds with the reduction in the level of GDP or economic growth in the economy. Overall the island has lost 6,726 jobs since 2008, a reduction of 16.7 per cent
"Growth in the number of jobs began to moderate in 2007 when the increase was 0.4 per cent. The number of jobs peaked in 2008 at 40,213 reflecting year-over-year growth of 0.9 per cent.
"Since that time, the number of jobs in Bermuda has declined in six consecutive years; 1.7 per cent in 2009; 3.6 per cent in 2010; 1.8 per cent in 2011, 5.2 per cent in 2012, 2.6 per cent in 2013 and 2.3 per cent in 2014."
Chart extracted from the report: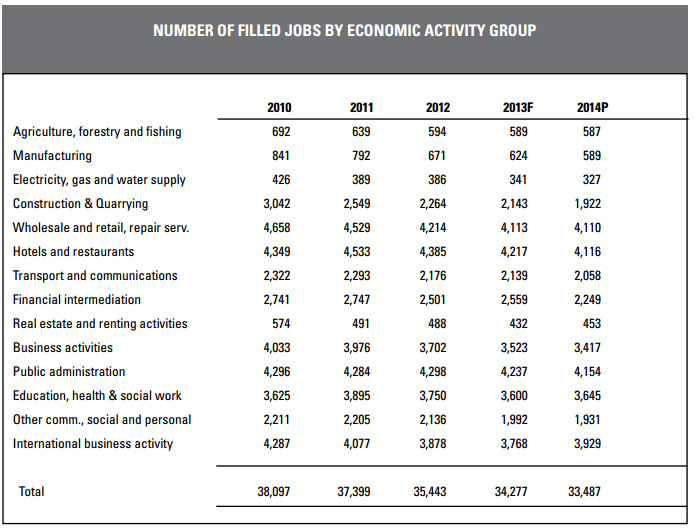 Speaking on international business, the report said, "In 2014 the international business sector provided 3,929 jobs in the economy reflecting an increase of 4.3 per cent year over-year, or an extra of 161 posts.
"Over the first nine months of 2014, foreign exchange earnings of the international companies increased by $35.2 million to $1.35 billion representing growth of 2.7 per cent.
The report also touched on tourism, saying: "The total number of air arrivals during 2014 fell from 236,343 in 2013 to 224,329 in 2014, a decrease of 5.1 per cent.
"Cruise passenger arrivals increased in 2014, rising from 340,030 in 2013 to 355,880, which represents an increase of 4.7 per cent. Total visitor arrivals in 2014 increased by 3,836 or 0.7 per cent year-over-year
The 35-page National Economic Report of Bermuda follows below [PDF here]
Read More About