[Updated with video + PLP's comments] The working population decreased slightly to 35,328 in 2015 from 35,478 in 2014; the unemployment rate was measured at 7% in 2015; and median gross annual employment income climbed 5% from $60,559 to $63,399.
This is according to the 2015 Labour Force Survey Preliminary Report which was released by the Department of Statistics today [Aug 13]. This report provides findings on employment and unemployment with comparisons for the years 2010 to 2015, excluding 2011 when data was not collected.
The Highlights listed in the report are:
The working population decreased slightly to 35,328 in 2015 from 35,478 in 2014
The unemployment rate was measured at 7% in 2015
The labour force declined 3% to 37,830 persons in 2015 from 38,963 in 2014
Unemployment fell to 2,502 persons
Labour force participation fell by two percentage points from 88% to 86%
Median gross annual employment income climbed 5% from $60,559 to $63,399
Average hours worked per week were down from 40 to 38
The number of unemployed Bermudians fell to 2,278 from 3,214
The youth unemployment rate declined from 29% to 23%
Chart extracted from the report: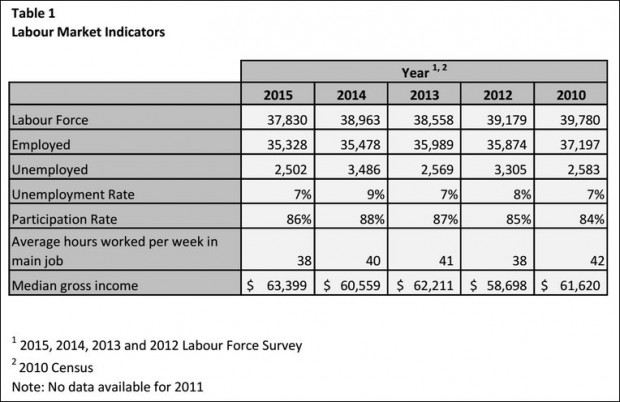 Speaking at a press briefing today, Minister of Finance Bob Richards said: "I have previously expressed some concern about the danger of relying on year-old data to make informed decisions or opinions about what is going on in today's economy. In fact, yet another example of this was broadcast in recent days.
"So for the second time within a week, I am happy to be able to provide more current data that again provides a platform for economic optimism, again by the Department of Statistics, this time regarding the Labour Force Survey.
"Most Bermudians had become accustomed to what the Royal Gazette described as an, 'Almost uninterrupted decades-long upward trajectory that brought with it increased equality of opportunity, and social progress,' and a sense that prosperity for Bermudians was inevitable. The past six years have forced us to revise that thinking. Therefore systemic unemployment has been one of the most alarming aspects of Bermuda's Great Recession.
"But again, there is reason for optimism. Last week we reported an uptick in first quarter, 2015 GDP by 3.7%. I can now share with you brighter figures on the unemployment front from this year's Labour Force Survey.
Update 2.07pm: 15-minute video of Minister Richards full press conference
"These new figures, based on data collected in May and June of this year, show the numbers of the unemployed fell, during the comparative period from 2014 to 2015, by more than 28%. The actual unemployment rate dropped from 9% in 2014 to 7% in 2015.
"The Government has been working hard to create the environment of greater business confidence and one in which inward investment would lead to projects that get Bermudians back to work.
"A breakdown of the figures shows unemployment among Bermudians has decreased, year over year, by more than 29%; unemployment is down by more than 33% among blacks workers while it is up by 1.28% among white workers.
"Youth unemployment fell from 29% to 23%. While the average number of hours worked decreased by 5%, the median income rose by 4.7% to $63,399, the highest level in many years. These are preliminary numbers with a full report expected in October.
"We expect that large building projects, like the new hotel property in St. George's, will soon get underway. We are bringing the House of "Assembly back for a special sitting on Monday to pass a measure that will move the process forward," continued Minister Richards.
"This is good news. It indicates that we have turned Bermuda's economic momentum towards positive growth. But we also know that there are people – families – still stranded on the sidelines of this progress, and they tell us that we've got to keep the "pedal to the metal," keep pushing forward to create new jobs, new opportunities for more and more Bermudians. This continues to be our mission."
Update 3.03pm: Shadow Minister of Finance David Burt said, "The Labour Force Survey released today confirms that the Bermuda Economy under the OBA continues to move in the wrong direction. There are less people working in Bermuda, a sharp decline in Bermudians in the workforce.
"Furthermore the drop in unemployment is not a result of more jobs, but a result of Bermudians either giving up looking for work or leaving Bermuda entirely. This report is proof positive that the OBA's economic policies are failing Bermuda and especially Bermudians."
The Shadow Minister of Finance also stated that he is waiting for "an error in the figures" to be corrected before releasing a full statement.
The Labour Force Survey Preliminary Report follows below [PDF here]:
Read More About