The Bermuda Futsal Federation [BFF] Women's Futsal League continued on Saturday [Feb 14] at the Warwick Academy Gym and saw CP Chicas defeat Dandy Stars, league leaders PHC record a defining win against SCC, and HPWC defeat YMSC.
CP Chicas 7 – Dandy Stars 6
The game of the evening saw Chicas narrowly win against the previously undefeated Stars. The first half saw both teams go back and forth with Chicas leading 5 to 3 at half time. Stars came back strong in the second half scoring 3 goals, but Chicas scored 2 goals late to eake out the win.
Cleshaunay Darrell-Virgil was outstanding for Chicas scoring 3 goals, with Rayni Maybury adding 2 goals and Noah Autmezguine and Shauntae Todd scoring a goal each. Stars was led by the impressive Zahra Gibbons who scored 2 goals, with Donte Allen adding 2 goals and Nia Christopher and Zakiyah Durham scoring 1 goal each.
PHC 10 – SCC 1
The defending champions gave another strong performance in their win over SCC. An improved SCC started well early in the first half and PHC found it difficult to break down SCC's defence. However, later in the half, PHC started firing on all cylinders and led 5 to 1 at half time.
The second half was no different with PHC scorong a further 5 goals to win 10 to 1. Aaliyah Nolan was outstanding for PHC scoring 4 goals, with Jessica Furtado, Haley Bright, Micah pond, Raeesah Shakir, Leanne Yates and Taznae Fubler adding 1 goal each. T'Chana Wade was outstanding for SCC with Dazhya Greaves scoring the single goal for SCC.
HPWC 6 – YMSC 0
The suprise game of the evening saw HPWC upset YMSC. HPWC jumped out to an early lead and led 2 to 0 at half time. YMSC could not find a way to score and in the second half HPWC scored 4 more goals to take the game 6 to 0. Karen Dechebert was outstanding for HPWC scoring 3 goals, with Anternette Burgess-Lewis and Keisha Hollis scoring the remaining goals.
Latest standings after 3 games: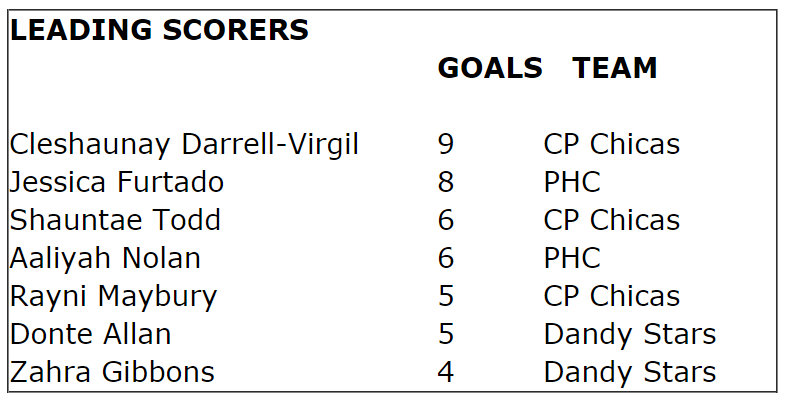 Read More About