[Updated with video] A collision occurred just before noon today [Mar 11] involving a bus crashing into parked cars on Front Street, just outside of Great Things. Further details are limited at this time, however we will update as able.
Update 1.12pm: A police spokesperson said, "Around 11:40am on Wednesday, March 11th first responders attended a reported collision on Crow Lane in the City of Hamilton outside of Great Things involving a bus.
"Apparently five passengers on the bus were injured; however their injuries are not considered to be serious. An update on those injured will be given as soon as more details are available.
"It appears that the bus and at least three parked vehicles were damaged, as well as a utility pole. Traffic has been diverted in the area until further notice.
"Inquiries into this incident are ongoing and any witnesses should contact Constable Mervin Homer on the main police telephone number 295-0011."
Update 1.24pm: A BELCO spokesperson said, "Today's accident on East Broadway damaged a utility pole and associated overhead and underground lines, resulting in approximately 40 customers without power at this hour.
"Switching is going on to restore power to as many customers as possible, while work continues to replace the damaged equipment.Work on full repair and restoration is expected to continue into this evening. We will provide updates as the work progresses."
Update 1.37pm: BELCO Operations Centre advised that customers without power due to the East Broadway accident will be without power until repair work continues, and said they will provide updates as work progresses.
Update 4.20pm: A police spokesperson said, "Reports from the hospital indicate that after this morning's bus collision a total of eight persons arrived at the Emergency Room for treatment including two visitors to Bermuda and a small number of children, taken for medical assessment by their parents. However, all have minor injuries. None of the eight individuals that attended required admission.
"Traffic diversions in the area of this incident continue, as efforts are made to remove the bus from the scene by crane this afternoon.
As a result, motorists should be aware of the following:
It is recommended that all vehicles avoid traveling along Front Street until further notice.
One way traffic flow only will be allowed out of the city along Front Street/Crow Lane until Great Things.
There will be no traffic allowed along Crow Lane into the city until further notice.
Traffic traveling along Cavendish Road out of the city will be diverted down Corkscrew Hill.
There will be no traffic allowed along Spurling Hill until further notice.
The patience and cooperation of the motoring public is appreciated. A further update will be given when normal traffic flow can resume in the area."
Update 4.34pm: BELCO said only 4 customers are awaiting restoration of power, and work to install a new pole and related equipment is progressing.
Update 5.32pm: Richard Jennings, who assisted right after the collision, has described the scene saying saying he heard people screaming from the bus that there were kids on board. The full story can be read here.
Update 8.18pm: BELCO said, "As of 8:09pm, all repairs are complete, circuits reenergized and power restored to all customers. We thank customers for their patience today as emergency work was underway."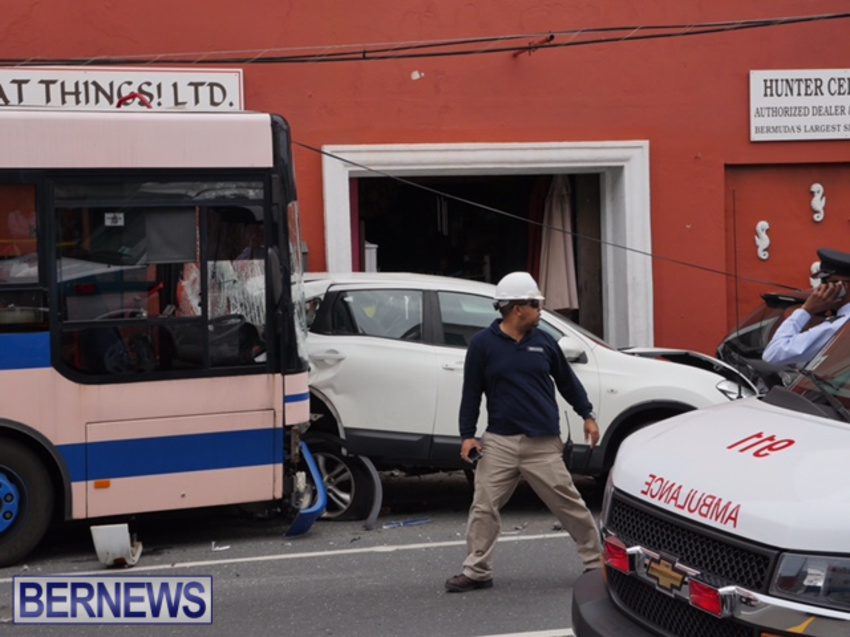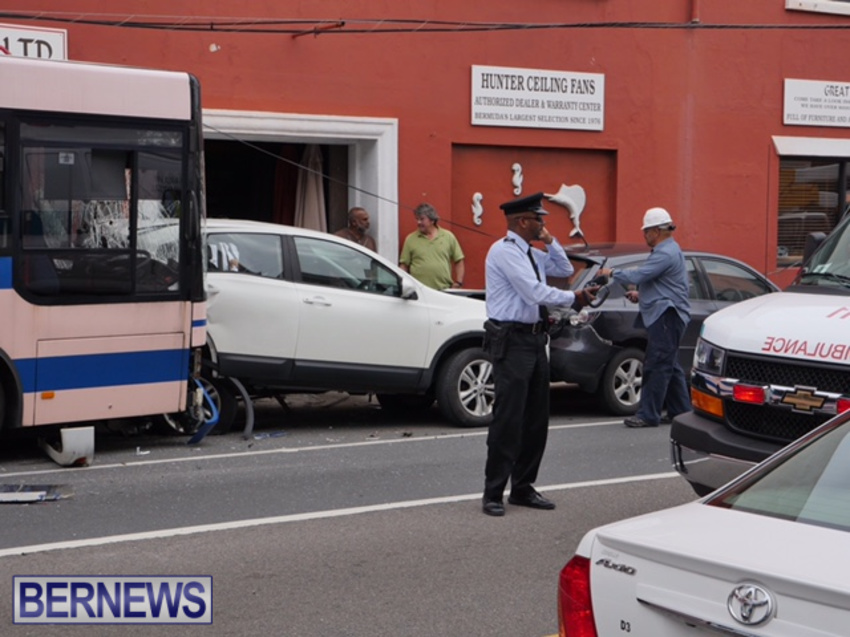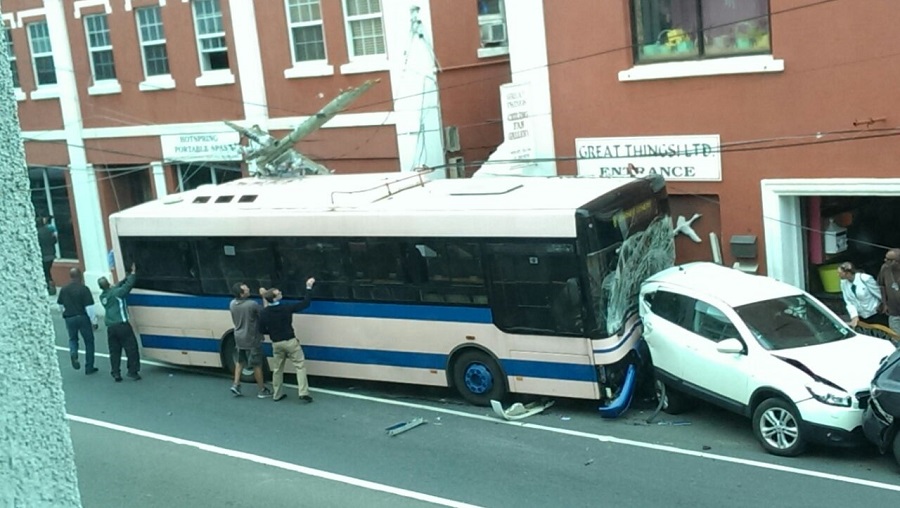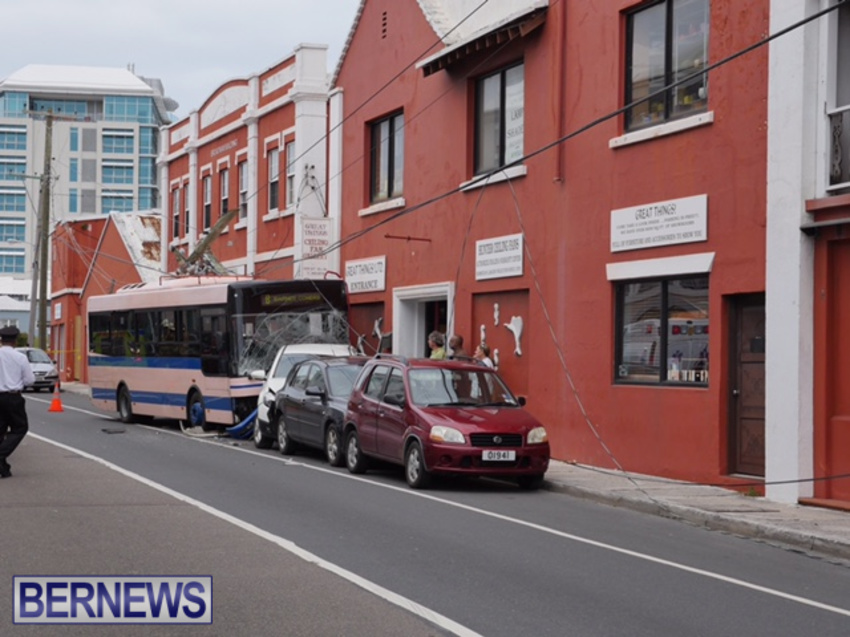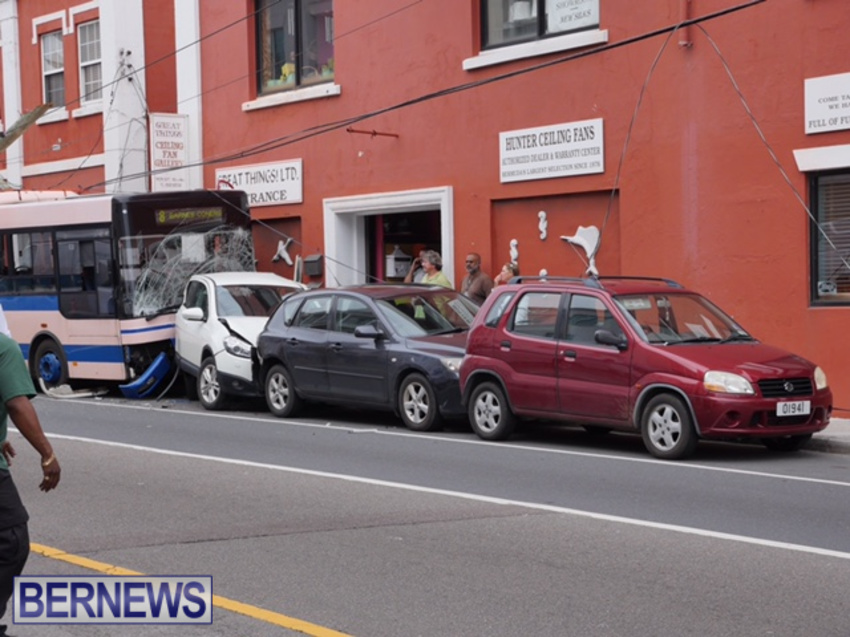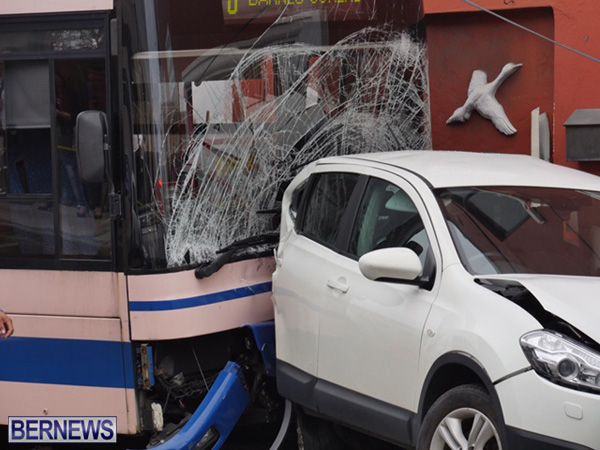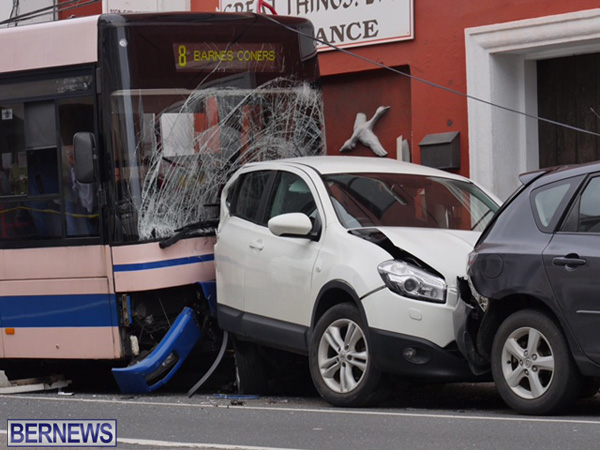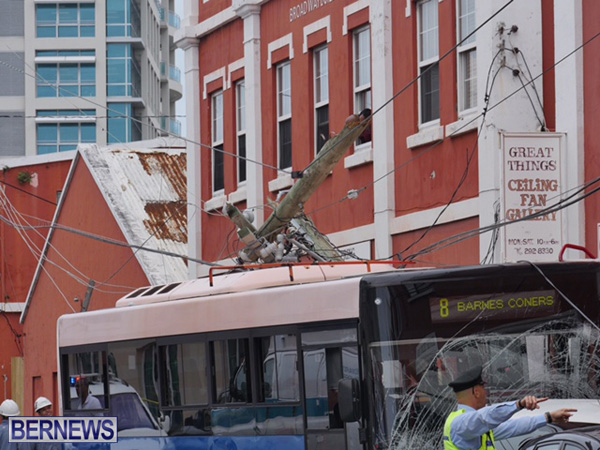 Read More About
Category: Accidents and fires, Accidents/Fires, All, News, Photos