Darts league play continued around the island on Monday, March 16; with the season heading into its last seven games, the title race is still wide open, with any of the top four teams still having a chance to win the title.
The race for ranking points in the High Aggregate Division is also very close and is expected to keep getting tighter, probably not being decided until the last game of the season.
Ted Swiss from Sandys B.C. 2 currently leads the highest out category with his 114 checkout, while Simon 'Stubby' Carruthers leads the way from Docksiders Bulldogs in the Most Tons Division, shooting 79 so far, including five perfect 180s. Docksiders Filipino 1 are at the top of the Team 1001 table, winning nine of their eleven games so far.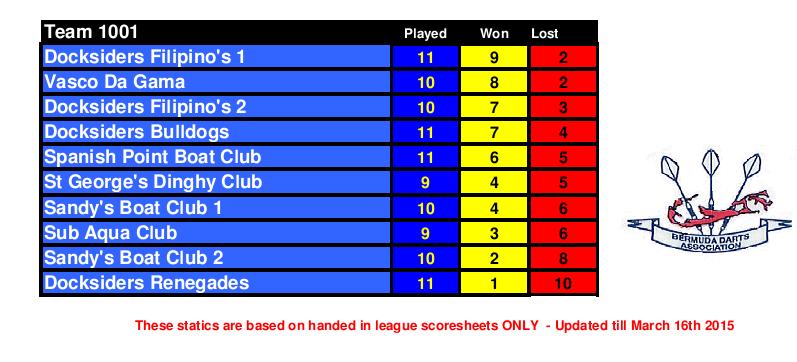 Vasco Da Gama 4 v 5 Sandys BC 1
This was a very close game that saw Vasco take the 1001 game, and singles wins for Marco Pacheco over Aaron Carvelho 2-0 and Angelo Costa over Marc Siese 2-0. But three wins in the doubles matches, along with singles wins for Steven Almeida over Antonio Camara 2-0 and Richard Phillips over Enio Vieira 2-1, gave the edge to the west end team.
Docksiders Renegades 7 v 2 Spanish Point BC
Docksiders secured only their second win of the season with a comprehensive victory over Spanish Point. The away team started well in winning the 1001, but they took only one more point with a victory for Michael 'Chick' Simons over Bart Lewis 2-1. Renagades won all the doubles game, along with singles wins for Rory Manuel over Shawn Johnson 2-1, Terry Footy over Krystle Johnson 2-1, and Marshall Weller over Guy DeSilva 2-0.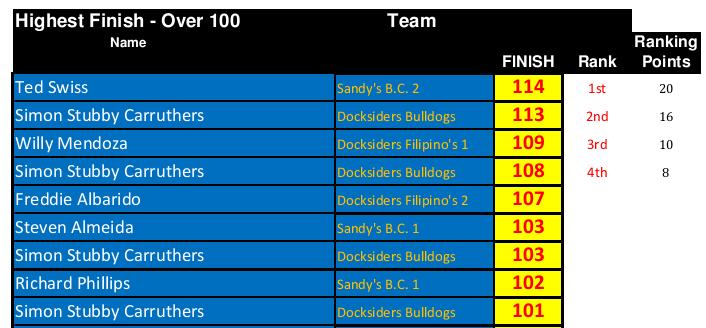 Docksiders Filipino's 1 v 7 Docksiders Filipino's 2
The bragging rights go to a strong Filipino 2 side, with another win over their clubhouse colleagues. Renato Reyes over Willy Mendoza 2-0, and a win in the 1001 saw the only points for the Filipino's 1 side. Wins in all the doubles, along with singles victories for Freddie Albarido over David Coddrington 2-0, Eleseo Eubenga over Manny Real 2-0, and Rodel Lorenezo over Patrick Robiso 2-0 keeps the Filipino's 2 side in a tight battle at the top of the league table.
Sub Aqua Club v Sandys B.C. 2
This match was postponed and rescheduled.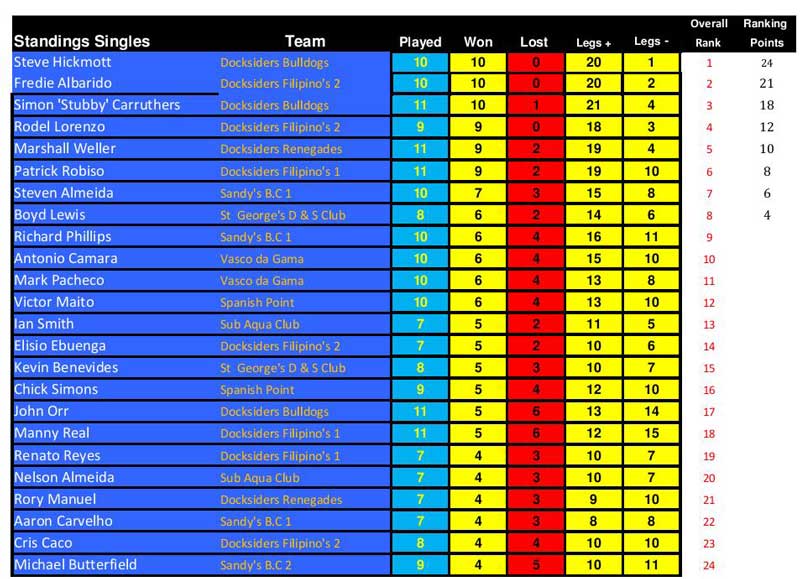 Docksiders Bulldogs 7 v 2 St Georges D&S Club
Bulldogs finish helped them beat a good east end side. With the St. George's team missing a few key doubles, which would of made for a much closer score line, with wins in only one of the doubles and a singles victory for Boyd Lewis over Eric Lewis 2- 1, getting them points.
The Bulldogs won the 1001, along with three of the doubles matches. Singles victories for Simon 'Stubby' Carruthers over Kevin Benevides 2-0, John Orr over Gary Brangman 2-0, and Steve Hickmott 2-0 saw the Bulldogs win and stay top of a very close league table.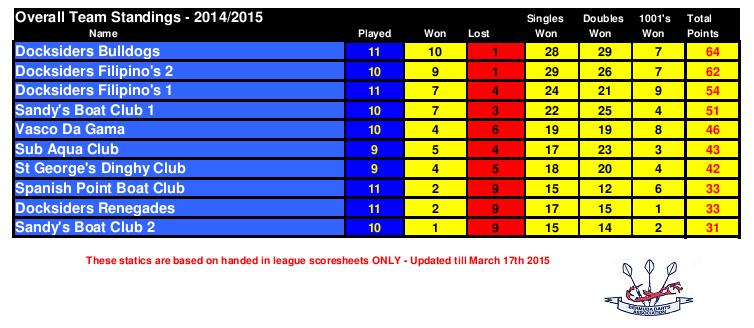 Spanish Point B.C. 2 v 7 Sub Aqua Club
Wins in the 1001 and Victor Maito over Ryan Kromer 2-0 in his singles match gave Spanish Point BC their only points in this battle with their neighbours from Admiralty Park. Sub Aqua won all the doubles matches, along with singles victories for Ian Smith over Joanne Flood 2-0, Ben Halpin over Shawn Johnson 2-1, and Nelson Almeida over Krystle Johnson 2-0.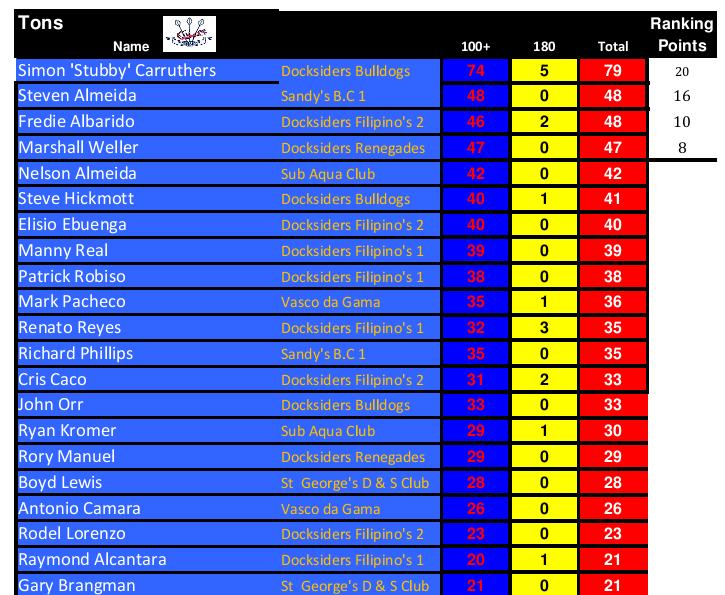 Read More About